From David Bassanese at the AFR comes an interesting idea I wish I'd thought of (which happens very rarely to me reading Oz media):
It is one of the ugliest words in financial markets, but one that might start to confront Australian investors in the coming year: "stagflation", the combination of weak economic growth and rising inflation.

…Rising inflation usually pushes up long bond yields, which cuts bond market capital returns. And there's a double whammy for equities: weak growth hurts corporate profits, while rising interest rates dampen equity price-to-earnings valuations.

…For overall inflation to remain benign, we'll need to see a decent slowing in domestic or "non-tradeable" inflation to offset the likely upward drift in "tradeable" inflation due to weakness in our dollar…higher inflation cuts the RBA's ability to help the economy out of its weak patch – which is why it is such a problem for investors. We can't blame the weaker Australian dollar – we need a cheaper currency to boost external competitiveness, which has largely driven the lift in tradeable prices.

Instead, should stagflation occur we should blame the lack of internal or "domestic" competitiveness, which may well keep non-tradeable-sector inflation high, despite weak demand.
Correct! Rent-seekers, monopolies, poor and weak policy all make this possible.
Though unlikely. Bassanese also notes that tradable inflation will pass as the revaluation passes through prices – pig through the python style – and that should prevent stagflation. As I've said, the RBA won't raise rates in that event. And if housing comes off the boil I think non-tradable inflation will too as employment and incomes weaken (it's all we've got after all). Meaning the RBA can cut again. That's what's happened before in the 2003 and 2008 housing slumps: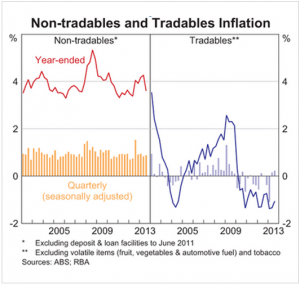 Though that'll mean another spurt of tradable inflation.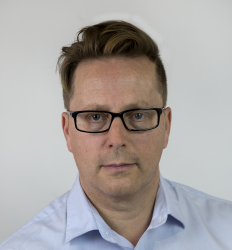 Latest posts by Houses and Holes
(see all)