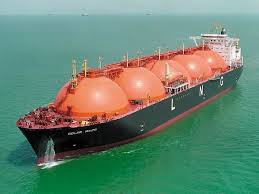 In what is shaping up as a fascinating test case for Japanese gumption:
WOODSIDE Petroleum chief executive Peter Coleman says he expects critical pricing talks with Japanese LNG buyers to be finalised by April next year amid a joint effort by Asian customers to drive down prices under new long-term contracts.

He said Woodside was unlikely to be able to provide guidance on the revenue impact of the new contracts until it released its June production report next year.

"Across the board, it is a very difficult time in Japan with their energy policy and also trying to ensure the economy maintains a growth path," Mr Coleman said.
That's not confidence and Coleman also acknowledged that Browse cold go ahead without long term contracts, which is a bit of a giveaway.
Meanwhile, the Feds have approved Arrow:
Large mining projects that received approval include the Arrow liquified natural gas processing plant on Curtis Island in Gladstone as well as the Abbot Point coal terminal expansion in north Queensland. But while they have been given the green light by the Commonwealth there is still no guarantee they will go ahead, given tough market conditions and rising construction costs.
It's still quite unlikely to proceed. But, it sure is all go elsewhere, from yesterday:
RUSSIA'S state-run energy giant Gazprom is a step closer to shipping gas to Asian buyers from its Vladivostok LNG project by the target date of late 2018, after naming Australian firm Worley Parsons as its engineering contractor.

Gazprom aims to start work on the first 5 million tonne a year (mtpa) LNG processing train in 2015, with a commissioning goal of 2018. The plant will source natural gas from Russian Far East fields such as Yakutia, Irkutsk and the Pacific island of Sakhalin.

A second 5 mtpa train is scheduled for commissioning in 2020, while a third train of the same size may be built later if enough gas is available. Gazprom says it expects to receive environmental approval for the Vladivostok project by mid-2014, and "positive feedback" from the Russian State Expert Evaluation Department by the end of 2014.
And, new projects are still queuing up in the US:
Waller Point LNG filed an application with the U.S. Department of Energy (DOE) for long-term, multi-contract authorization to export LNG to Non-Free Trade Agreement countries in amounts up to approximately 1.5 million metric tons per year, which is equivalent to approximately 70 Bcf per year or 0.19 Bcf per day.

Waller Point LNG seeks authorization for a 25-year term to export LNG from its proposed Waller Point LNG Terminal presently under development at the entrance point of the Calcasieu Ship Channel in Cameron Parish in Southwest Louisiana.
And Tanzania is the new frontier:
British energy company BG Group said Tuesday it estimated there are 15 trillion cubic feet of natural gas in its reserve basins off the Tanzanian coast.

The company said Tuesday its latest discovery, dubbed Mzia, off the southern Tanzania coast holds an estimated 4.7 trillion cubic feet of total recoverable natural gas. The company said that brings its total estimate for reserves spread out over three areas to around 15 trillion cubic feet.

BG Group Chief Executive Officer Chris Finlayson said he expected the Tanzanian government to lay out eventual plans to build an export terminal for the country's natural gas resources. Export plans with its partners at British energy company Ophir Energy and Norway's Statoil call for deliveries of liquefied natural gas.
Latest posts by David Llewellyn-Smith (see all)