Looks like it's getting a bit rough towards the end of the year in the iron ore market.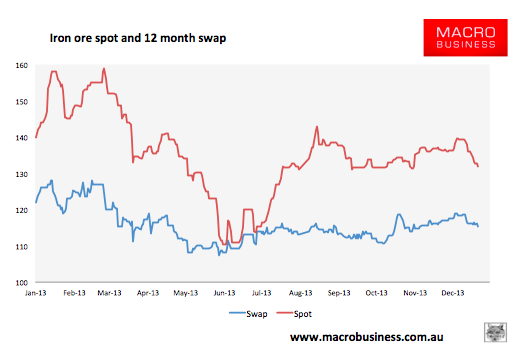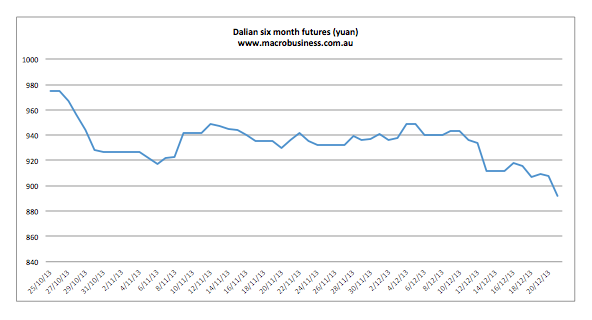 and here is why, from Reuters
Chinese iron ore futures slumped more than 2 percent to a record low on Monday on faltering demand from top consumers as steel mills cut output and tight liquidity restrained their buying of the raw material.

Weaker steel prices have forced mills in the world's largest producer to cut production, limiting their appetite for restocking the raw material. The tight credit crunch at year-end also dampened their buying interest.

The most active iron ore futures for May settlement on the Dalian Commodity Exchange hit a low of 885 yuan ($150) a tonne, the first time it has been below 900 yuan since the contract was launched in October. It pared losses to trade at 893 yuan by 0314 GMT, down 1.6 percent.

"Some mills have slashed production and they don't want to replenish much inventories, while many also face very tight liquidity and don't have money to buy more," said an iron ore trader in Shanghai.

The funding squeeze in China's cash market showed little sign of easing on Monday, even after the central bank moved to reassure the market that liquidity was ample, while its tough stance is seen as an unofficial shift towards tighter monetary policy.

Steel demand in China remains tepid as the cold weather in northern regions slows construction activities, dragging down steel prices to a one-month low on Monday.

The mostly-traded rebar futures for May contract on the Shanghai Futures Exchange declined to a low of 3,611 yuan on Monday, the lowest since Nov.22. It traded 0.9 percent lower at 3,618 yuan at 0314 GMT.

Chinese steelmakers have made a combined profit of 16.18 billion yuan in November, while the profit margin was as low as 0.48 percent, state media agency Xinhua reported, citing Zhang Changfu, vice chairman of the China Iron & Steel Association. Zhang also told that Beijing plans to increase standards on energy consumption and pollutants discharge for steel mills in an effort to consolidate the sector and ease air pollution.
Looks like quite a bit of seasonality in there and also no real surprise to see the liquidity issues flowing through into other markets. But certainly not a great way to finish the year.