The iron ore price tables for December 23,2013: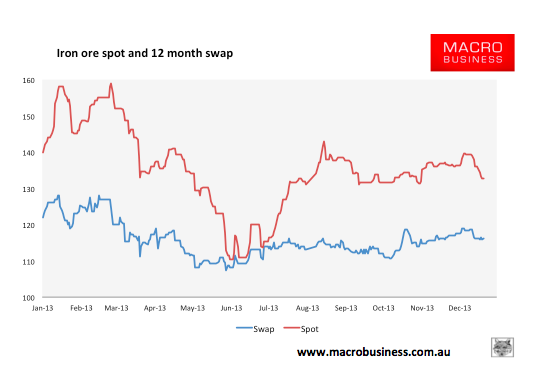 Not much recent action.
And Rio Tinto's chief was having a plug at analysts over the weekend. From the Oz
RIO Tinto chief executive Sam Walsh says erroneous forecasts that iron ore prices would slump to $US90 a tonne or lower this year showed that many analysts failed to grasp that Chinese domestic supply was drying up and that new projects were difficult to develop.

In an interview yesterday with The Weekend Australian in Rio's Perth offices, Mr Walsh said he expected iron ore prices would be softer next year as some new supply entered the market, but he believed Chinese demand would remain strong.

Iron ore prices have been remarkably strong in the second half of 2013, remaining above $US130 a tonne and defying analysts' almost unanimous forecasts of drastic price falls. Earlier this year, analysts had been forecasting the average iron ore price to fall as low as $US90 a tonne by the December quarter, in what would have been a big blow to company profits and state and federal government coffers.

The average analyst estimate, according to Bloomberg data, has since been increased to $US125 a tonne but is still short of the present benchmark iron ore price of $US132.70. Analysts are forecasting iron ore price to average $US119 a tonne next year, gradually declining to $US100 a tonne in 2017.

Mr Walsh refused to provide his own estimate for next year. Last month Rio said it would spend up to $US8 billion ($9bn) expanding its iron ore mines in Western Australia, in a further sign that it believes prices will remain high.