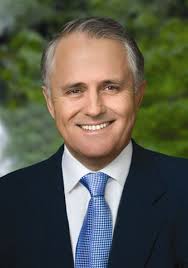 Ahh, bring it on Malcolm! From the SMH:
Anger is rising within the Abbott government over Malcolm Turnbull's advocacy for gay marriage, with the Communications Minister publicly criticised by two backbench colleagues.

South Australian Senator Cory Bernardi has urged Mr Turnbull to either resign from the frontbench or stop commenting on "fringe issues outside party policy". And West Australian Liberal MP Dennis Jensen said Mr Turnbull's comments on gay marriage were "unhelpful" and not befitting a cabinet minister.

Mr Turnbull frustrated some of his more conservative colleagues when he told an interviewer on Sunday that Australia was getting out of step with similar countries on gay marriage.

He said Britain, Canada and parts of the US and South Africa had taken steps to allow gay marriage.

"So people of the same sex can get married in Auckland and Wellington, Toronto and Ottawa and Vancouver, in New York and Los Angeles, Baltimore and Cape Town, but not Australia," Mr Turnbull said.
If there's one thing that gives me the shits about the Coalition it is its insistence that we be economically liberal but socially conservative. In other words, we're allowed (expected) to do whatever we want at work but at home we have to toe the line.
One wonders how much pre-emptive strike there is here given the poor performance of the Prime Minister.
David Llewellyn-Smith is Chief Strategist at the MB Fund and MB Super. David is the founding publisher and editor of MacroBusiness and was the founding publisher and global economy editor of The Diplomat, the Asia Pacific's leading geo-politics and economics portal.

He is also a former gold trader and economic commentator at The Sydney Morning Herald, The Age, the ABC and Business Spectator. He is the co-author of The Great Crash of 2008 with Ross Garnaut and was the editor of the second Garnaut Climate Change Review.
Latest posts by David Llewellyn-Smith (see all)