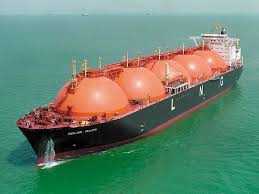 From the AFR:
Approvals for US liquefied natural gas exports are being granted more quickly than anticipated, reinforcing expectations of a "new dawn" in North American LNG, which could capture a fifth of the global market by the end of the decade, according to RBC Capital Markets' Toronto-based LNG export Greg Pardy.

Speaking in Sydney Mr Pardy said while progress towards LNG exports in Canada was still at a relatively early stage, ventures were moving ahead rapidly on the US Gulf coast, with exports from the first US export terminal, Cheniere Energy's Sabine Pass venture in Louisiana, set to reach Asian markets in 2016.

…"The US is exceeding our expectations dramatically in terms of the approval of LNG exports to non- Free Trade Agreement countries," Mr Pardy told the Australian Financial Review.

…RBC is forecasting North American LNG exports will reach about 69 million tonnes a year (9.2 bcf/d), representing about 20 per cent of global supply. Of that total, the US is likely to take more than the 57 million tonnes a year share anticipated just a few months ago, Mr Pardy said.

…RBC is forecasting Chinese LNG demand will more than triple in the 2012-20 period, to reach 7 bcf/d by the end of the decade. But it is bearish on demand in the world's largest market Japan, estimating that demand there will slide to 9.7 bcf/d by 2020 from the current peak of 11.7 bcf/d as nuclear power capacity resumes operation, up to an expected 40 per cent of capacity.
Yep, yep and yep. The next cab off the rank is Cameron LNG and then a string of other brownfields projects. Hard to know where the US approvals will stop but they will probably pause around 70mtpa. The problem is they can resume any time they like to take market share from their bloated Australian cousins.
Cost-out deflation ahead for Australian LNG. That or longer term limited output.
David Llewellyn-Smith is Chief Strategist at the MB Fund and MB Super. David is the founding publisher and editor of MacroBusiness and was the fouding publisher and global economy editor of The Diplomat, the Asia Pacific's leading geo-politics and economics portal.

He is also a former gold trader and economic commentator at The Sydney Morning Herald, The Age, the ABC and Business Spectator. He is the co-author of The Great Crash of 2008 with Ross Garnaut and was the editor of the second Garnaut Climate Change Review.
Latest posts by Houses and Holes (see all)