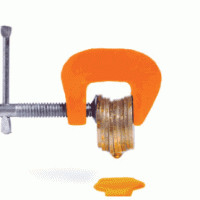 I noted last week how the Reserve Bank of New Zealand's (RBNZ) speed limits on high loan-to-value ratio (LVR) mortgage lending were showing early signs of success, with the latest housing loan approvals data from the RBNZ suggesting that mortgage demand was falling as evident by year-on-year growth in the number of approvals (-5.8%) slowing to the lowest level since the week ended 1 April 2011: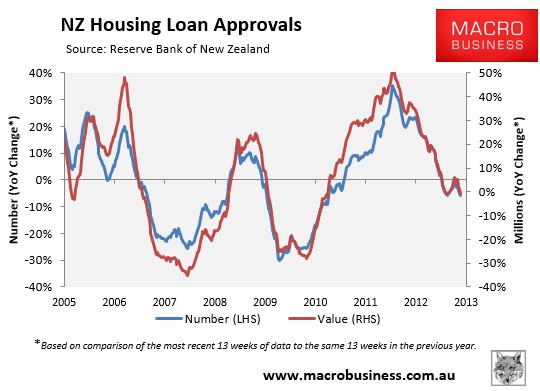 Now John Bolton, principal of New Zealand's Squirrel Mortgages, has come out supporting this view, also warning that the new caps introduced in October would "bite much harder" than many people realise, and predicting price falls in the new year on the back of weakening first home buyer demand. From Interest.co.nz:
The latest monthly BNZ-REINZ Residential Survey showed that since the LVR limits came into force first home buyers had deserted the market.

Bolton said there were "bound to be more negative headlines in the press over the coming months".

"We are starting to get the odd comment about auction clearance rates dropping below 50%, which is a huge signal.  I suspect we will get our first average price fall reported in January.

"…Bank economists pooh poohed the RBNZ approach and said it wouldn't work.  Many are still sceptical and think this is a temporary aberration."

First home buyers were "clearly" out of the market, Bolton said.

"Almost nobody can buy with less than a 20% deposit… We still have pre-approvals out there for some existing clients above 80% but these are running out fast.

"We've had good settlements in October and November due to our pipeline.  But, when it comes to First Home Buyers our pipeline has been dropping rapidly.  In terms of new approvals we are down about 50%.  This will bite"…

Bolton said latest media coverage "would suggest we are heading fairly quickly back into a buyer's market".
RBNZ Governor, Graeme Wheeler, has repeatedly stated that the LVR caps are a temporary measure only aimed at cooling the housing market while the Government moves to free-up the various constraints causing New Zealand's land/housing supply to be constipated.
In my view, Wheeler and his team at the RBNZ should be applauded for the responsible actions they have taken. While the LVR caps are no panacea – a point acknowledged repeatedly by the RBNZ – they do provide the essential pressure on Central and Local Government to get on dealing with land supply and infrastructure financing issues, so that affordable new housing can be built. Along with the ongoing "moral suasion" about the dire need for policy reform, the RBNZ has effectively stung New Zealand's politicians into action, with housing affordability now front-and-centre of the political process.
It's a lesson that should be received by the Reserve Bank of Australia, rather than it playing the role of apologist and supporter of Australia's overpriced housing.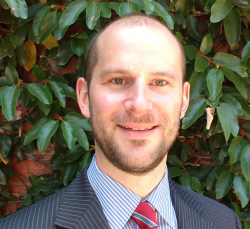 Latest posts by Leith van Onselen
(see all)