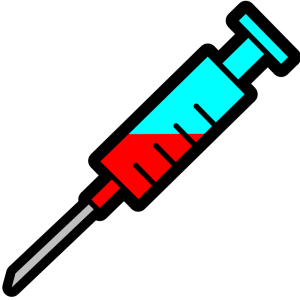 Today's QE update is another mix of warnings, good and bad data. From the top, the non-manufacturing ISM was strong despite the shutdown:
"The NMI® registered 55.4 percent in October, 1 percentage point higher than September's reading of 54.4 percent. This indicates continued growth at a faster rate in the non-manufacturing sector. The Non-Manufacturing Business Activity Index increased to 59.7 percent, which is 4.6 percentage points higher than the 55.1 percent reported in September, reflecting growth for the 51st consecutive month. The New Orders Index decreased by 2.8 percentage points to 56.8 percent, and the Employment Index increased 3.5 percentage points to 56.2 percent, indicating growth in employment for the 15th consecutive month. The Prices Index decreased 1.1 percentage points to 56.1 percent, indicating prices increased at a slower rate in October when compared to September. According to the NMI®, 10 non-manufacturing industries reported growth in October. Respondents' comments are mixed with the majority reflecting an uptick in business. A number of respondents indicate that they are negatively impacted by the government shutdown.
However, there were more signs of a slowing in housing markets. Rents are still growing: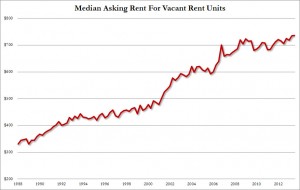 But house prices are slowing, according to property data tracker, Trulia:
Nationally, asking home prices rose 3.0 percent quarter-over-quarter (Q-o-Q) in September – the smallest Q-o-Q change since February. However, the downward trend is harder to spot in the more volatile monthly changes and smoothed out yearly changes. Asking prices rose 2.0 percent month-over-month (M-o-M) and 11.5 percent year-over-year (Y-o-Y), but year-over-year changes should start to shrink in the coming months. At the metro level, 89 of the 100 largest metros had Q-o-Q price increases in September, down from 97 in June.

"Asking home prices give us the first look at where home sale prices are headed, and they point to a slowdown," said Jed Kolko, Trulia's Chief Economist. "After rising rapidly in the first half of 2013, asking prices in two thirds of the largest metros are cooling. In fact, asking prices are falling – not just rising more slowly – in 11 of the 100 largest metros, the most markets to see prices slip in six months."

"Home prices are slowing down thanks to rising mortgage rates, expanding inventory, and fading investor activity, and soon we might thank the federal government as well".
The slowdown is seasonal as well. The still impressive year-on-year growth was confirmed by Core Logic.

The US dollar was up as well marginally as well as gold down a touch.
Some of these moves were also the result of being spooked briefly when voting FOMC member Eric Rosengren made a few hawkish noises but overall his interview on CNBC was pretty dovish stuff:
The same cannot be said of another warning from a market heavy-hitter, this time private equity's Barry Sternlicht:
A little less of a high today.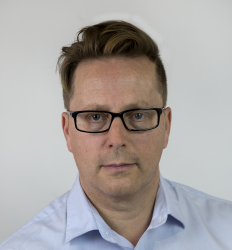 Latest posts by Houses and Holes
(see all)