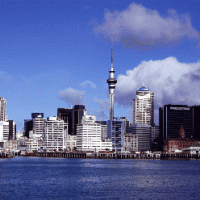 The Real Estate Institute of New Zealand (REINZ) has released its October house price results, which registered an increase in median values nationally, with price increases also recorded across the major markets.
In the month of October, the national stratified median price rose by 1.6% to just over $423,000. Prices rose by 0.9% in Auckland over the month, whereas prices in Christchurch and Wellington increased by 0.9% and 3.0% respectively (see next chart).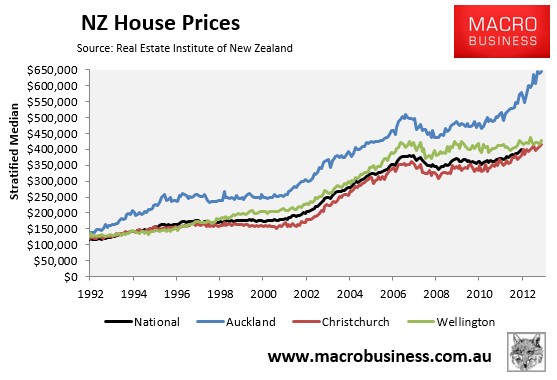 The price changes are shown more clearly in the below chart, which shows the values in index form since 2005: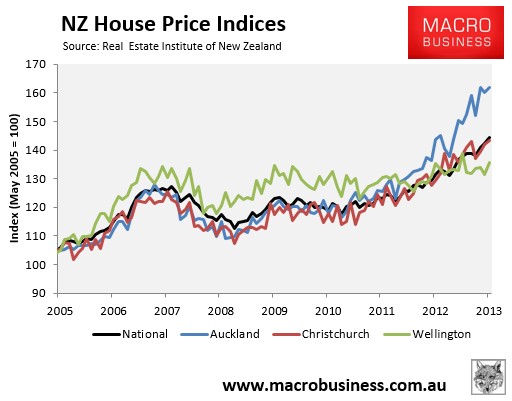 On an annual basis, house prices rose by 9.9% nationally in the year to October 2013 to be 13.6% above their November 2007 peak. Prices in New Zealand's largest city, Auckland, rose by 12.6% in the year to October 2013 to be 26.4% above their July 2007 peak. This was followed by New Zealand's second biggest city, Christchurch, where prices rose by 10.8% over the year to be 14.1% above their 2007 peak. Finally, prices in the capital, Wellington, rose by only 0.3% in the year to October, and were only 0.9% above the September 2007 peak.
While it may not seem apparent by the above house price results, new speed limits on high loan-to-value ratio (LVR) mortgage lending, implemented by the Reserve Bank of New Zealand (RBNZ) on 1 October 2013, appear to be starting to bite, which should act to curb house price growth through the remainder of the year and into 2014.
According to Interest.co.nz, sales were up by only 2.1% in the year to October 2013, suggesting that RBNZ's new lending limits may be having an impact. The rate of sales increase year-on-year in the heated Auckland market was also up by just 1.6%, while on a seasonally-adjusted basis, Auckland's sales actually fell over the past month.
Any slowdown in the housing market arising from the RBNZ high LVR lending speed limits could be expected to hit sales volumes first before prices.
In a similar vein, the latest home loan approvals data from the RBNZ registered negative year-on-year growth, which suggests price growth should slow considerably in the months ahead (see below charts).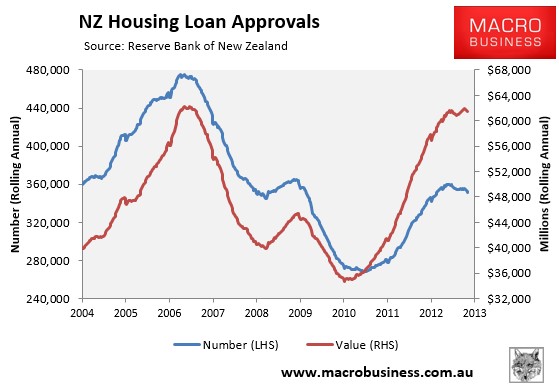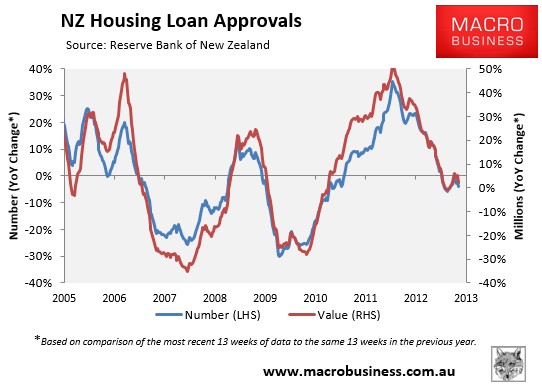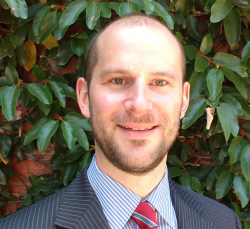 Latest posts by Leith van Onselen
(see all)