From LNGWorld:
Buyers in all four East Asian markets have competed aggressively to secure winter cargoes, putting pressure on limited flexible supplies and driving prices to monthly records.

The ICIS EAX December assessment closed on 15 November at $18.525/MMBtu, having climbed $1.425/MMBtu since it opened as the front-month contract on 16 October. Friday's close also represented the highest EAX assessment recorded for December, and stood $4.685/MMBtu above the equivalent contract price on the same date in 2012. January was assessed at $18.778/MMBtu on 15 November, which also marked the highest level for the month recorded by ICIS.

As the period opened, buyers were motivated to secure cargoes early after the previous winter, which had seen prices spike dramatically in March and April after a subdued start to the season.

On 17 October, the highest bid for H1 December was recorded at $16.60/MMBtu, with the lowest offer heard at $17.20/MMBtu for the same period. However, broad-based demand soon applied upward pressure on prices and a handful of December deals were concluded early in the period into Japan in the $17.10-17.30/MMBtu range.

South Korea's KOGAS was reported to have a requirement for 50 winter cargoes after nuclear outages spurred Korean demand for other sources of generation. Petrochina also tendered for the first four of an expected 10-15 cargo winter requirement to cover seasonal and commissioning requirements. China's CNOOC, Taiwan's CPC and several Japanese electricity utilities were also understood to be looking for two or more December cargoes.

On the supply side, both Qatari consortia were said to be unable to supply spot cargoes before January because of incremental cargo sales, the ramping up of new-term contracts and a three to four week maintenance outage at RasGas train 7. By 24 October, buyers set their highest bids at $17.50/MMBtu for H1 and H2 December. A Japanese utility was understood to have paid $17.70/MMBtu for a prompt cargo secured by a Japanese trader at the Angola LNG tender.
As I wrote in my recent member's report, these shortages are likely to persist until 2015/16 when the supply and demand balance begins to correct: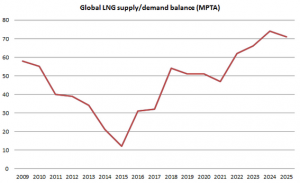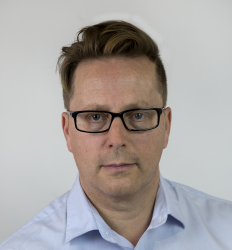 Latest posts by David Llewellyn-Smith
(see all)