The IEA's World Energy Outlook is a piece of work. Released yesterday it is a treasure trove of LNG data, completely unreported in Australia, of course.
The most important part of the document for the country was an analysis of the US's growing LNG capability.  First, some background:
The emergence of North America as an LNG exporter is based in part on proposed greenfield projects in the United States and western Canada, but the first new projects in the United States are based rather on conversion of terminals that were originally intended to handle LNG imports. The construction of liquefaction facilities is expensive, but existing terminals have shipping and storage infrastructure already in place, reducing the overall cost and the time required to get projects operational. As of October 2013, four such projects have thus far received conditional approvals from the US Department of Energy allowing them to move ahead.11 These include: Sabine Pass and Lake Charles projects in Louisiana͖ Freeport project in Texas͖ and the Cove Point project in Maryland, which will provide annual export capacity totalling some 65bcm. Sabine Pass has also received the necessary supplementary approval from the US Federal Energy Regulatory Commission to construct the liquefaction facilities and is expected to begin operation in 2016.

As of October 2013, there are an addiƟonal 28 applications to export LNG from the United States at various stages of the approvals process, together providing for a theoretical addition of more than 250bcm per year in export capacity. Only a fraction of these are expected to see the light of day, but a few are nonetheless advancing, with the Cameron project in Texas already having long-term export commitments in place with prospective buyers. The business model for US LNG export projects, at least for the initial projects, is distinctive by international standards. Instead of being supported by long-term contracts, with pricing linked to the oil price and exports dedicated to a single destinaton, they are based on the Henry Hub price, plus a liquefaction fee, and there are no destination restrictions. The tolling (liquefaction) fee is set by long-term contract. The net result is that this LNG is effectively free to seek the most advantageous international market. In most cases, this is expected to be in Asia.

In Canada, the focus for LNG export projects is largely on the west coast. Of the seven proposed projects in British Columbia, three have received export licenses and are at the stage of seeking environmental approvals: Shell's LNG Canada (with ultimate capacity of 32bcm per year), Chevron's Kitimat LNG (13bcm per year) and the much smaller Douglas Channel Energy Project. As greenfield projects, these are expected to take longer to become operational than the initial US projects and the pricing arrangements are expected to be at least partially indexed to oil. The relative proximity of the west coast projects to Asian markets and the promise of supply diversity for consumers are likely to appeal to Asian buyers.
We already know that the IEA sees US LNG landing in Asia at around $10. Australian projects have a break even point around $12. It offers two scenarios for the outcome. The first is that Sempra's Cameron LNG will get approval (which most analysts agree with)  and the five export hubs will add up to roughly 60 million tonnes per annum (mpta), about two-thirds of Australia's under construction output.
That would be OK, leaving us with decent margins as the price of LNG fell to $14.
The second scenario is the US gets a little more aggressive, and pushes approvals to volumes closer to Australia. In that event, our local production is pushed to the brink at a $12 LNG price: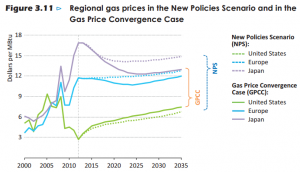 Off course there are offsetting factors in long term contracts, the rising Henry Hub price etc, but it's no fun being the marginal cost producer of any commodity. Just ask on again, off again Chinese iron ore miners. I'm writing a special report on this for members currently.
In other news today, one of those projects on the long list of proposed USLNG plants is ramping up the pressure on the US DOE for approval:
U.S. Senator John Barrasso and 11 other lawmakers from Wyoming, Utah and Colorado called on the Department of Energy to support liquefied natural gas export facilities on the west coast and allow Rocky Mountain natural gas to reach international markets.

In a bipartisan, bicameral letter to the Secretary of Energy, the lawmakers expressed support for the proposed LNG export facility at Jordan Cove in southwest Oregon. Jordan Cove would allow natural gas from Colorado, Utah, and Wyoming and Indian Tribes, such as the Ute Indian Tribe on the Uintah and Ouray Reservation, to be exported to Asia. Last month, the Ute Indian Tribe sent the Secretary a similar letter in support of Jordan Cove.

The lawmakers specifically urged the Secretary to quickly review and act on Jordan Cove's application to export LNG to non-Free Trade Agreement countries. To date, DOE has approved applications to export LNG to non-FTA countries from three proposed facilities on the Gulf coast and one facility on the east coast. DOE has yet to approve LNG exports to non-FTA countries from facilities on the west coast.

"Facilities, such as Jordan Cove, are essential to ensuring that Rocky Mountain states and Indian tribes have greater access to international markets and thus the opportunity to enjoy the economic benefits of LNG exports," wrote the lawmakers. "Access to international markets is critical to ensuring that companies have the incentive to produce natural gas in the future. The Department's approvals of LNG exports from east coast and Gulf coast facilities will encourage future natural gas production in eastern and Gulf coast communities. We believe the Department should provide the people of the Rocky Mountain states and Indian tribes the same opportunity."
Jordan Cove is proposed as a 6 mpta facility. Several other west coast facilities are proposed but are facing stiff local opposition.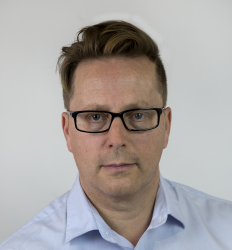 Latest posts by David Llewellyn-Smith
(see all)