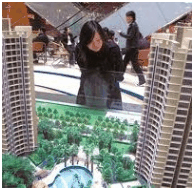 From the newly free and spruikaliscious BRW:
Australian house prices are being fuelled by Chinese buyers, says the president of the Federal Reserve Bank of Dallas, Richard Fisher, but as long as Australian households don't over-leverage, house price growth shouldn't be a worry.

…Fisher says Australia's housing market is "robust" due to "unique factors" where Chinese buyers are flocking to Australia in large numbers. "I've been watching the weekend auctions in Sydney and Melbourne – they are record auctions now."

"You have a robust housing market. Even though Reserve Bank of Australia hasn't cut the cash rate below 2.5 per cent… you have unique factors. I'm staying at the Crown Towers. I'm one a few non-Chinese non-Australians. I see what's happening. I know one of things that drives the housing market here are newly wealthy Asians buying houses and flats for students and their children."

Asked whether he was worried about the high level of household debt in Australia, he said people taking on higher loans "all ties back to easy money."

"I don't know the specifics of the Australian market, but leverage works very well going in one direction and always comes back to bite you in the other direction. I'm sure the RBA and others are watching this."
And the article contains this howler, just to show it really is ALL GOOD:
Economist Steve Keen, who in 2008 famously warned house prices would rise by 40 per cent, has long been worried about Australia's high rate of mortgage debt, which he says is by far the largest component of debt in Australia today.
I'm not sure we can take Mr Fisher's observations from the heights of Crown Towers all that seriously but I will note, darkly, that given it was the Chinese that financed the US housing bubble via buying GSE bonds, it is probably less risky to sell them the houses directly instead.
Until the revolution of course.