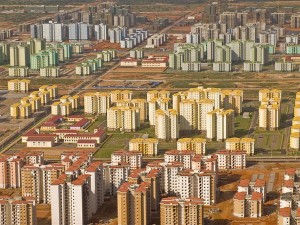 An article at Forbes today is very much worth your time. Titled In China There's Not One City Without Terrifying Stretches Of Empty Houses by Anne Stevenson-Yang of J Capital Research:
Over the last two years of traveling constantly in China, I can say that I have not seen a single city, town, or hamlet without massive empty housing stock. A colleague, on two trips crossing about 1,500 kilometers overland, said that he was not out of sight of empty buildings even once… 

…For those who do not believe travelers' tales, there is the Chinese government's own report, from 2010, concluding that home ownership rates in China were then nearly 90%. This compares with a world average of 63% and a U.S. average of 65%. The report also concluded that 15% of Chinese people own more than one housing unit.

…In fact, the unique class of person who does not own a home in China is the migrant worker who is supposedly the target of the nation's "urbanization." Any government official knows what few external analysts seem to: that Chinese urbanization is not a migration of populations. Instead, it is the re-designation of a piece of agricultural land to "urban" so that it can be sold for a much higher value. Urbanization Chinese-style, meaning urbanization in situ, forces agricultural populations from their land and into nearby highrises, where they are employed as maintenance workers or simply given extras units to rent out for income—should they be able to find renters. Urbanization thus destroys jobs rather than creating new employment.

…Now, the oversupply of housing seems to be converging on a single number that is roughly equivalent to 25 square meters per person, or units enough to re-house the whole population of an area. Prices also are converging, on a range of 5,000 Renminbi per m2 to 10,000 Renminbi in each city, depending on how luxurious the housing but regardless of where the city is or what level of income is average for the population. 

…What this means is not that that housing in China has become a new type of tradable and fungible commodity something like wristwatches or jewelry or indeed piles of copper or gold. The purchased units are left empty, because renting them would depreciate the value of the real estate; living in the housing is actually an impediment to realizing its value.

It is impossible to know with certainty when the property bubble will burst, but burst it will, and anyone visiting China five years from now will be lucky to find prices at 60% of the current values. 
This reminds me of the last time I was in China and I flew from Hong Kong to Beijing on a clear day yet did not once see the ground through the smog. That's almost 2000kms…
It's really hard to imagine the magnitude of this unless you've been there.
I suggest you read the article in full.