One day ago, JPMorgan and Digital Financial Analytics produced a report on housing that raised some new questions about why first home buyers are being priced out of housing markets. The Principal at DFA, Martin North, has kindly provided the research that underpins the issues raised today. From The Australian:
House prices have surged this year, particularly in Sydney where median prices are up 11 per cent, but this had not translated into credit growth because of the changes in the types of buyers in the market.

First-home buyers, who are estimated to number 1.2 million, according to the JPMorgan Australian Mortgage Industry Report, were being priced out of the market by a combination of so-called "down-traders", investors and foreign buyers who were competing for similar properties.

Report co-author Martin North, principal of Digital Financial Analytics, said the down-traders – those selling larger homes to free up capital for smaller homes, investment properties and retirement – were about equal in number to first-home buyers and becoming a significant force in the market.

They were one of the main reasons that credit was not growing strongly, despite higher house prices, Mr North said.
DFA's demographic segments first include 'property inactives", "about 25 percent of households…which equates to about 2.3 million households and rising.
The "property actives" are a larger group with many more segments:

And the distribution among households is revealing: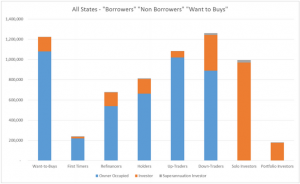 The key finding is that first home buyers (FHBs) are completely balanced by "down-traders". This has two immediate implications. It inflates the level of small entry level property as boomers move into smaller dwellings and it means FHBs are often competing with all cash buyers, which is putting a lid on credit growth and disguising more price bullish market internals for lower end property.
These findings certainly fit with the pattern of property price effects over the past twelve months. North's view is that the solution lies with government. From the ABC:
MARK COLVIN: One of Australia's top banking analysts is calling for an inquiry into the housing market.

A surge of people looking to trade in their big houses and buy smaller places, along with a wave of investors, is locking out first-time buyers, especially the young.

Martin North is one of the authors of a report that says well over a million people who want to get into the home ownership market can't.

He says Australia has never had an official report looking across all aspects of housing policy, and one is long overdue.

Business reporter Michael Janda has more.

MICHAEL JANDA: We've all heard of "wannabes" but now in Australia there's the "wannabuys".

MARTIN NORTH: There are about 1.2 million households who I put in the "want to buy" category. Those are people who are looking at the property market, thinking, "I would love to be involved. I'd love to buy a property," but just simply cannot get in.

Martin North is the principal of Digital Finance Analytics and he says high home prices are the biggest barrier.

MARTIN NORTH: More than half of them say, "I can't afford because the prices are too high." And another one third say, "I just cannot put together the savings for a deposit" or "I can't potentially service the loan that I need." So directly or indirectly, house prices are perhaps up to 80 per cent of "want to buys" are impacted by those high prices.

MICHAEL JANDA: The latest JP Morgan Mortgage Industry Report shows potential first-home buyers are facing competition on several fronts for the type of properties they might normally buy: firstly from their parents.

MARTIN NORTH: There are people who've already got their big properties and are looking potentially to sell those and to move into smaller places, so we call those "downtraders." Some of those are older, perhaps Baby Boomer types, thinking about saving some money out of that transaction to put into superannuation, maybe going to investment property later. So they don't need to borrow.

MICHAEL JANDA: There's also competition from local investors who have the benefit of negative gearing and, finally, from overseas buyers.

MARTIN NORTH: There is definitely an influence from overseas, predominantly investors. A lot of those investors are looking at units and small properties in the major centres. And, interestingly, they are precisely the same properties that first-time buyers aspire to buy.

MICHAEL JANDA: That's pushed up the price of these properties and that, in turn, has had two effects.

The first is that first-home buyers now make up the smallest proportion of the market on record at just 12.5 per cent of new loans. The second is those still buying are taking out bigger loans.

Scott Manning is JP Morgan's Australian banking analyst.

SCOTT MANNING: First-time buyers need to increase their loan-to-valuation ratio to chase the house prices as they go up.

So if house prices move 10 per cent in one year, typically not a lot of people get 10 per cent income growth in one year and they haven't increased their deposit by 10 per cent in one year. So the maths just tells you that they have to borrow more to still be able to enter the market.

MICHAEL JANDA: Even amongst the first-home buyers who bought at lower prices and with more government assistance in 2009 and 2010, Martin North says mortgage stress is running at 18 per cent.

MARTIN NORTH: We are seeing that some of those are still struggling to maintain the property that they own. They're about four times more likely to be in mortgage stress.

MICHAEL JANDA: And while the financial regulator APRA (Australian Prudential Regulation Authority) says it believes banks are maintaining reasonable home lending standards, its chairman John Laker told an economics lecture at Sydney University last night that it's watching the sector closely.

JOHN LAKER: The concern we're focussed on quite specifically is lending standards. We've been working quite assertively with our banking institutions about their lending standards. We don't want the memories of the earlier correction in housing prices in Australia a decade ago or the memories of what's happened in housing markets in Spain, Ireland, the US – we don't want those memories to be short. We don't want those memories to be selective.

MICHAEL JANDA: But Martin North warns that a further rise in home prices risks more than a bank collapse. He says it's already damaging Australia's economy.

MARTIN NORTH: It's probably, on average, twice as expensive now to house yourself than it was, say, 20 years ago, relative to income. What that means is that, for many households, they are effectively putting a greater proportion of their income towards just maintaining a roof over their head and paying the bills as they go.

That means that they have less discretionary income available for other things. So what it's doing is it's sucking some of the air out of the broader economy. That's why I think retail is stagnating.

MICHAEL JANDA: The Federal Government's planning to do another tax review and Scott Manning says property taxes – and tax breaks – should be on the agenda.

SCOTT MANNING: They're looking to go to the next election with a platform of tax measures and, you know, within that you'd like to think that taxation of the housing sector would need to be considered given what we're seeing at the moment.

MICHAEL JANDA: But Martin North says a comprehensive Federal inquiry into housing policy is needed.

MARTIN NORTH: Over the last 20 or 30 years, most of the interventions have been a point-in-time tactical intervention. It hasn't really worked at all well – like first-time owner grants, for example. So I think the time now is right for a broad-based inquiry to think through strategically how we're going to manage this for the greater good of all Australians.

MICHAEL JANDA: Without such a review, the number of "wannabuys" looks set to keep rising.
Yep.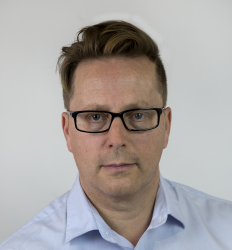 Latest posts by David Llewellyn-Smith
(see all)