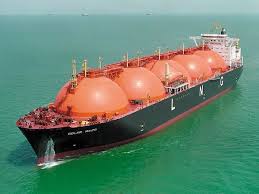 The competitors keep coming. From Reuters:
DAEGU, South Korea, Oct 16 (Reuters) – Russia expects to liberalize its liquefied natural gas (LNG) exports from Jan. 1, and a bill will be submitted to parliament shortly, Energy Minister Alexander Novak said on Wednesday.

Novak also said Gazprom and China National Petroleum Corp (CNPC) are expected to reach an agreement on gas supplies by the end of this year.

President Vladimir Putin said earlier this month that Russia, the world's biggest energy supplier, would press ahead with opening up LNG exports in a move to meet growing demand from Asia-Pacific markets.

…Removing restrictions on LNG exports would be a big blow to state-controlled Gazprom, which holds a monopoly on Russia's gas exports.

The prospect of an end to that monopoly has injected urgency into its talks to supply China with pipeline gas, which have gone on for more than a decade.

…Asked about a Gazprom deal to supply gas to China, Novak said: "We really expect Gazprom and CNPC to reach agreement by the end of this year."
Russia has three or four LNG terminals in planning (plus the planned pipeline) depending upon who you ask totaling 40 or 50 million tonnes per annum output. The majority is destined for Asia from 2017-2020.
That has not deterred Woodside. Also from Reuters:
South Korea Oct 15 (Reuters) – Woodside Petroleum said on Tuesday it could build three floating liquefied natural gas (LNG) plants for its Browse project, as the firm banks on what it expects to be a cheaper technology to contain booming Australian development costs.

Australia's biggest oil and gas firm, which plans to make a final investment decision on Browse in 2015, scrapped a $45 billion onshore proposal earlier this year and to opt for cheaper floating LNG plants.

"The next big signal for the marketplace is when the project enters front end engineering and design which we hope will be in the middle of next year," Chief Executive Peter Coleman said in an interview.

"The basis is three floating vessels for Browse. That will be firmed up as we finalise the basis of our design."
Meanwhile, the stoush with Colin Barnett goes on:
The Premier is furious with Woodside for abandoning its original development option of building a $40 billion-plus onshore plant at James Price Point in the Kimberley, arguing that the move to FLNG will cost local jobs.
…"At the moment I don't see how the Browse project could sell gas to an international customer because it doesn't have clear ownership of that gas," Mr Barnett said. "It does on the commonwealth leases, but not on the state leases."

But Woodside executive director Rob Cole told a Perth business function yesterday that the company estimated that only 5 per cent of the gas was in the state permits. "There are seven retention leases: five are commonwealth and two are state," Mr Cole said.

"It's certainly in our estimation that 95 per cent of the volumes are in the commonwealth permits, leaving 5 per cent in the state permits . . . that means obviously inside commonwealth waters the vast majority of the gas is there (so) it's critical that we get commonwealth approvals."
As I've said before, I have some sympathy for Mr Barnett. The sail in, sail out approach to gas development leaves the state and nation with only the tax take as a benefit to owning the gas. But prices are going to fall and so must costs therefore lest there be no development of any kind.
Latest posts by David Llewellyn-Smith (see all)