A couple of good articles on LNG over the weekend reveal a few truths. At the AFR Angus Grigg and Lisa Murray delivered a solid backgrounder the highlight of which was quotes from Colin Barnett and Ross Garnaut:
For West Australian Premier Colin ­Barnett, this unique situation could bring about growing strategic competition for natural gas between the world's second- and third-biggest economies.

During recent meetings with officials from Japan and China, he said both governments were acutely aware of the need to secure future energy supplies.

"I think Japan would have to be . . . very nervous about the entry of China [into the natural gas market]," he told AFR Weekend.
Perhaps but they certainly aren't behaving nervous. Japan has a very long history of being prepared to trade high prices for security of supply in strategic commodities yet here it is doing everything in its power to break the oil benchmark pricing system. Actions speak louder than words. Yet Barnett clearly believes he's right:
"Industry [in Japan] is far less confident about this and can see real risks to Japan's future energy supply – and those risks coming quicker rather than later," he says.

"In my view, the Japanese government runs the risk of misjudging the market if they believe supply sufficient for their use and maybe China's needs is going to come from the USA."

Barnett also says the power utilities in Japan have stressed to him that "at the very best", 15 per cent of the country's further energy supply will come from nuclear.

That means upwards of 60 per cent will need to come from natural gas, up from 40 per cent today.
That offers an insight into why Barnett is driving a hard bargain over FLNG. He clearly believes he has leverage. However Ross Garnaut makes many of the points I've made here in the past eighteen months in riposte, that US gas is robust, that it will leak offshore anyway and that Australian projects are at the wrong end of the cost curve.
At The Australian, Citi's global head of energy research, Seth Kleinman, agrees:
"You look at the US. In 2011 it grew an Ecuador in terms of oil supplies. In 2012, it added a Venezuela," Mr Kleinman said.

"It's pretty dramatic, and if you look at what will happen in 2016 onwards and the rapid growth you're going to be seeing in US LNG exports, I think the bearish pressure out of North America is mounting on the entire hydrocarbon complex."

On top of that, Australia's LNG exports will face increased competition from renewable energy sources that are becoming more and more affordable.

"One of the problems for Australia is that the biggest (LNG) markets, Japan and China, have massive renewable build-outs now. They're both going to overtake Germany by 2016," Mr Kleinman said.

"The problem for Australia is that it's up there at the high end (of the cost curve) because of the rise in labour pressures…It's got to move down the cost curve and floating is the quickest way down that cost curve."
Correct. Just as interesting is that that may not be enough. If the LNG price is going to fall from $16mmbtu to $13 mmbtu then Australia's existing wave of projects are also going to be furiously hunting for ways to reduce costs. Their $12 break even price is incredibly expensive and designed for a pre-US energy revolution balance of demand and supply: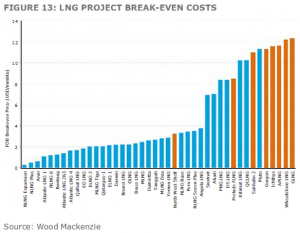 Friday's deal between GLNG and APLNG to share infrastructure and save hundreds of millions of dollars is only the beginning. Last year it was all about LNG cost blowouts. The path ahead will be an increasingly swift and steep cost-out deflation cliff.
David Llewellyn-Smith is Chief Strategist at the MB Fund and MB Super. David is the founding publisher and editor of MacroBusiness and was the founding publisher and global economy editor of The Diplomat, the Asia Pacific's leading geo-politics and economics portal.

He is also a former gold trader and economic commentator at The Sydney Morning Herald, The Age, the ABC and Business Spectator. He is the co-author of The Great Crash of 2008 with Ross Garnaut and was the editor of the second Garnaut Climate Change Review.
Latest posts by Houses and Holes (see all)