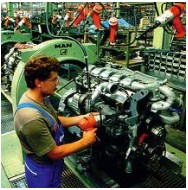 For a number of months I have questioned whether the liquified natural gas (LNG) boom will actually be all that beneficial to Australians, who will be forced to endure rising domestic gas prices as most of the bounty from LNG exports flows offshore:
With a "gas cliff" expected in 2016 as major east coast LNG export terminals come on line, gas shortages and rising domestic prices are likely to become more pressing. One can only wonder whether for every dollar earned from exporting gas to Asia, Australia faces losing much more in lost value-added local production.
Today, the Australian Industry Group (AIG) executive director, Innes Willox, noted that taxpayers might have to provide "temporary financial support" to manufacturers struggling with rising gas prices brought about by the impending LNG export boom:
…the federal and state governments have to accept the consequences of their decisions to allow the eastern states gas market to link up with international markets through LNG export projects, Mr Willox said on Tuesday.

"If the government believes that price relief is coming eventually there could be a case for temporary financial support for businesses whose competitiveness is at risk from the gas price surge," Mr Willox told a gas conference in Sydney.

"The Commonwealth and the states took the decision to allow the eastern gas market to be linked to the high priced Asian and east Asian gas market. Government should not escape responsibility for the unintended consequences of that decision…

Mr Willox also reiterated a call for all future liquefied natural gas export projects to be subject to a national interest test before they are approved, to try to balance up the needs of domestic gas users with gains from exports…

Average wholesale gas prices have already moved up from the historical average of $3.50-$4 a gigajoule to over $5 this year and are much higher for contracts that start in later years, according to the AIG.
Earlier this year, the Australian born CEO of Dow Chemicals, Andrew Liveris, warned that Australia risked damaging its manufacturing sector by exporting too much gas to Asia. Liveris' call is now sounding apt, with Australian taxpayers likely to pick-up part of the tab.
Leith van Onselen is Chief Economist at the MB Fund and MB Super. Leith has previously worked at the Australian Treasury, Victorian Treasury and Goldman Sachs.
Latest posts by Unconventional Economist (see all)