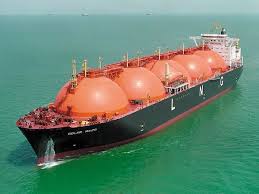 One of Japan's pre-eminent business leaders has hit back at criticism from Australian LNG producer Woodside over the Japanese government's attempts to drive prices lower. From The Australian:
Akio Mimura, the chairman of Nippon Steel and co-chair of the peak Japan-Australia business body, said it was wrong to say the Japanese government was intervening in the LNG market, but there was a clear need for lower pricing.

His remarks came in response to a speech from Woodside's Mark Hanna in which he said Japan's Ministry of Economy, Industry and Trade was foisting losses on Japanese power companies and jeopardising future projects by "distorting" the LNG market.

…"I think this kind of policy measure is naturally taken for any government. It's a quite appropriate policy," he told a press conference following the end of this week's Japan-Australia Joint Business Conference in Tokyo. "The government policy, as I see it, is not in any way a direct intervention to the pricing of LNG.

"I think the government policy is (about) doing it in an indirect way to create an environment that will enable a more affordable price for LNG buyers."

…The comments have emerged amid a fierce behind-the-scenes battle over LNG pricing that is pitting Japan and other Asian buyers, and their allies in the US shale gas industry, against producers from Australia and Qatar.
This is a repeat of the 2007/8 battle between North Asian customers and Australian monopolists in the iron ore markets. Only this time the boot is on the other foot as customers seek to break the long term contract system on rising supply. The key difference this time is the existence of alternative supply which did not exist in iron ore. That means we're going to lose this time. As Morgan Stanley said yesterday, once decoupled from oil, LNG price are going to fall to $12-13, from the current $16-17.
That brings us to the need to reduce costs, which is the future of Australian LNG. On that front the Browse partners continue to sell the prospects of FLNG at the WA inquiry:
Shell has revealed floating LNG processing platforms can be 30 to 50 per cent cheaper to construct than onshore facilities.

Onshore developments includes pipelines from the field to shore, port facilities and a land based gas plant.

Floating platforms avoid the need for a pipeline or port facilities.

While floating technology has fewer upfront capital costs, offshore facilities are more expensive to operate.

Shell's country chair in Australia, Andrew Smith, says the difference in upfront capital costs more than offsets the difference in operating costs over the life of the project.

He was giving evidence to a parliamentary inquiry in Perth into the economic impacts of floating LNG.

…The platform is currently being built in Korea with other specialised infrastructure being built elsewhere overseas.

Mr Smith said while the construction and design is happening offshore, most of the operational jobs will be given to Australian workers.

Shell anticipates the project will create 350 direct jobs and 650 indirect positions, more than 70 per cent of which it says will be given to local workers.
That compares with rough estimates of 5000 jobs for onshore development at James Price Point (which coincidently is also the estimate of jobs created in Korean shipyards for the alternative ships). The sail-in, sail-out approach is far from ideal for the nation – robbing it of a key benefit of having the gas at all – but the reality is our very expensive tradies have priced us out. Most of the profits go offshore too so tax is about all we get now and most of that is federal. At the least the decades old Petroleum Resource Rent Tax (PRRT) will collect. What odds on getting something like that up today?