See the latest Australian dollar analysis here:
The Australian dollar got smashed back one cent last night probably as much as anything on having run too far, too fast: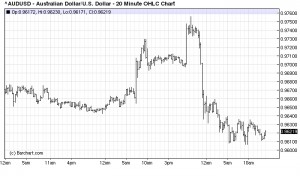 But there is also developing meme around China and property prices. Earlier this week, China reported prices rising very strongly. From Bloomie:
New home prices in September rose 20 percent in the southern business hubs of Shenzhen and Guangzhou, 17 percent in Shanghai and 16 percent in Beijing from a year earlier as prices climbed in 69 of the 70 cities the government tracks.

Property stocks fell in Shanghai on speculation Premier Li Keqiang will be forced to impose stricter policies to rein in prices and limit risks to the economy. Li has held off tightened restrictions on property this year as his government strives to meet a 7.5 percent annual economic growth target.
And here is the chart from the FT: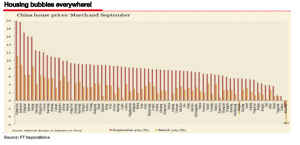 Also from the FT:
"There are intensifying concerns about policy risk in China following [Monday's] strong Chinese home price data," said Jim Reid, strategist at Deutsche Bank.

"Indeed, the one-week Shanghai interbank offered rate hit a three-week high overnight, adding more than 40 basis points, as did the onshore 7-day repo rate, on chatter that the Chinese government is mulling a crackdown on property-related lending."

Mr Reid noted market talk that domestic Chinese banks had already hit their 2013 loan targets following excessive real estate lending in the last couple of months, and reports that domestic loans to property developers had jumped 50 per cent in September from a year earlier.
I expect a renewed crackdown will ensure. But this is not all bad news, clearly. One of the mysteries of this year's Chinese rebound has been why property developers have not yet followed rising prices with rising starts. That may be turning now which will support iron ore demand, provided the coming clamp is not too tight.
It all adds to the point that I made earlier in the week that the current Chinese growth pulse is at its peak right now. For the Australian dollar there will be an increasing contest in markets between this rising and bearish realisation and the bullish pulse emanating from the postponed taper. We can't get too much higher.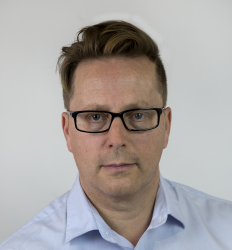 Latest posts by David Llewellyn-Smith
(see all)