The US mortgage rout is reaching epic proportions. From the MBA last night:
Mortgage applications decreased 13.5 percent from one week earlier, according to data from the Mortgage Bankers Association's (MBA) Weekly Mortgage Applications Survey for the week ending September 6, 2013. This week's results included an adjustment for the Labor Day holiday. …The Refinance Index decreased 20 percent from the previous week. The Refinance Index has fallen 71 percent from its recent peak the week of May 3, 2013 and is at the lowest level since June 2009. The seasonally adjusted Purchase Index decreased 3 percent from one week earlier….The average contract interest rate for 30-year fixed-rate mortgages with conforming loan balances ($417,000 or less) increased to 4.80 percent from 4.73 percent, with points increasing to 0.46 from 0.33 (including the origination fee) for 80 percent loan-to-value ratio (LTV) loans.
And the charts via Calculated Risk: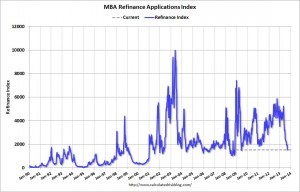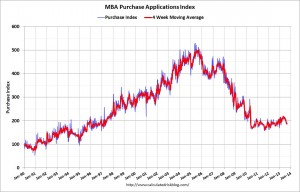 House prices need to slow so that's good. But new home construction doesn't and it is. From the WSJ:
A survey of 273 builders by John Burns Real Estate Consulting in Irvine, Calif., found that the respondents' sales of new homes declined by 4% in August from a month earlier. In past years, August typically has yielded a 2% gain from the July figure. Burns estimates that its survey, conducted Aug. 29 to Sept. 3, spans roughly 16% of new-home sales in the U.S.

Perhaps more telling: far fewer of Burns's survey respondents reported raising their prices in August than had in previous months. Of the respondents in August, 47% reported raising prices, 48% held prices steady and 5% lowered prices—the largest percentage of reductions since March 2012.

Those figures show substantial change from the results of Burns's July survey in which 64% of builders reported raising prices, 36% held them study and one builder—statistically 0%—said it cut prices.

…"The fact that we saw a 4% decline (in sales volume) does suggest there is more to it than just normal seasonality," said Jody Kahn, a senior vice president at Burns.

…On Tuesday, Credit Suisse analyst Daniel Oppenheim, who tracks home-builder stocks…respond[ed] to Mr. Oppenheim's survey rated buyer traffic in August at 45.2, down from 52.9 in July. A rating of 50 indicates that buyer traffic met agents' expectations. Any number less than that means traffic failed to meet expectations, and any number greater than 50 means it exceeded them.

"We saw August trends worsening from what we'd been seeing earlier (due to) higher prices and higher rates impacting the buyer," Mr. Oppenheim.
Last night bonds rallied 1% despite happy stocks. The Fed needs a soft landing for housing. Expect taper-lite.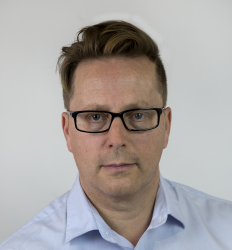 Latest posts by Houses and Holes
(see all)