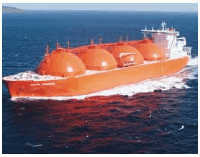 More grist today for the LNG debate from The Australian where ConocPhillips, builder of QLD's APLNG project, is quoted:
In a speech to an industry conference in Darwin yesterday, Conoco's head of commercial in Australia, Mike Nazroo, warned that supply tightness might prove short-lived.

"In the longer term, capacity additions look set to catch up with, and even overtake, demand," Mr Nazroo said. "Much of this supply growth is set to come from the Australian project wave, but there will be competing projects from North America, East Africa, Nigeria and Russia."

…Mr Nazroo stressed Conoco was already searching for gas to backfill its existing Darwin LNG plant, whose contracts run out in 2023, when gas from the offshore Bayu-Undan field that feeds it starts to run low.

.."Bayu-Undan (the field that feeds Darwin LNG) will not produce gas forever, and the opportunity for other gas resources to use DLNG becomes a real option," he said.

…The mention of backfill for Darwin in concurrent speeches by two of the partners may indicate it is needed sooner than the 2026 timeframe the size of the Bayu-Undan field suggests.
Shortages and excess it seems.
Meanwhile, the war of words continues in Japan. From The Australian:
THE massive reserves of US shale gas will effectively cap gas prices in North America at under $US6 per million British thermal units (MMBtu), ensuring that exports remain competitive with conventional gas from Australia and elsewhere.

That's the view of Michael Smith, the man who heads the first US operation cleared to export gas to Australia's biggest export LNG market, Japan.

Speaking at an LNG conference in Tokyo, the Freeport LNG boss was not afraid to contradict major gas players such as Chevron and Total in stating that the US Henry Hub price would not spike dramatically once exports of shale gas began.

"When we get to $US5 (per MMBtu) or $US6 there are so many rigs drilling that we would basically have a gas price cap in the US at about $US5 or a little bit above that," he said.

"Even if gas prices were to raise back to the five or six cap level we would still compare very favourable to Asian oil-linked LNG."

"If Brent goes to $US115, our gas price stays at $US3.50. It (political turmoil) has no effect. It gives the region supply diversification, first to the US and second to a different index," he said.

"We sold the capacity for all three trains to long-term 20-year take or pay contracts. Train one is to Osaka Gas and Chubu Electric, the second- and third-largest utilities in Japan. Train two is to BP Energy and just yesterday we signed tolling agreements for 20-year contracts with SK E&S and Toshiba Corporation," he told a packed audience of gas industry players earlier this week.
To the it's the final line that makes the case. The customers are buying it. QED.
Finally, QLD's Arrow LNG project has gotten environmental approval from the state government. Next is the Feds:
The forthcoming decision by the new Coalition government on whether to give environmental approval to a fourth liquefied natural gas plant on Gladstone's Curtis Island is shaping up as an early test for Tony Abbott's yet-to-be appointed senior team.

The green light given on Tuesday by the Queensland government for Arrow LNG's proposed $15 billion gas processing plant on the island leaves Canberra with 30 business days to release its decision to either back the Queensland approval or reject it.

However, Mr Abbott has yet to appoint an environment minister, while the likely resources minister, Ian Macfarlane, and Mr Abbott himself have voiced support for farmers' rights to say no to coal seam gas drilling on their properties.

…Considerable doubt still exists, however, on whether Arrow will proceed with a stand-alone LNG project given cost escalation throughout the sector.

Arrow has been in talks with Origin Energy's Australia Pacific LNG venture about potentially joining its project in an expansion. However, while that would avoid building a fourth LNG plant on Curtis Island, it would still likely require the drilling of many new wells in Arrow's acreage in the Surat and Bowen Basins.

A final investment decision on Arrow LNG is in theory targeted by Shell and PetroChina at the end of this year.
Given government rhetoric around mining and being pro-business I find it very hard to believe approval won't be forthcoming. I still expect some watered own version of the project to proceed, sharing infrastructure with other Curtis Island plants, if it goes ahead at all.
David Llewellyn-Smith is Chief Strategist at the MB Fund and MB Super. David is the founding publisher and editor of MacroBusiness and was the founding publisher and global economy editor of The Diplomat, the Asia Pacific's leading geo-politics and economics portal.

He is also a former gold trader and economic commentator at The Sydney Morning Herald, The Age, the ABC and Business Spectator. He is the co-author of The Great Crash of 2008 with Ross Garnaut and was the editor of the second Garnaut Climate Change Review.
Latest posts by David Llewellyn-Smith (see all)