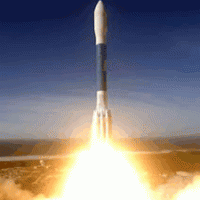 The Real Estate Institute of New Zealand (REINZ) has released its August house price results, which registered a big rise in median values nationally driven by escalating prices in New Zealand's biggest market, Auckland, where the stratified median price hit a whopping $645,653.
In the month of August, the national stratified median price rose by 2.1% to $421,876. Prices in Auckland jumped by 6.5% over the month, whereas those in Christchurch and Wellington – New Zealand's second and third biggest cities – rose by a more sedate 1.8% and 0.3% respectively (see next chart).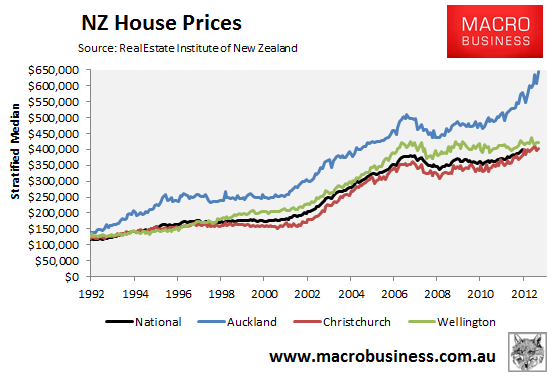 The price changes are shown more clearly in the below chart, which shows the values in index form since 2005: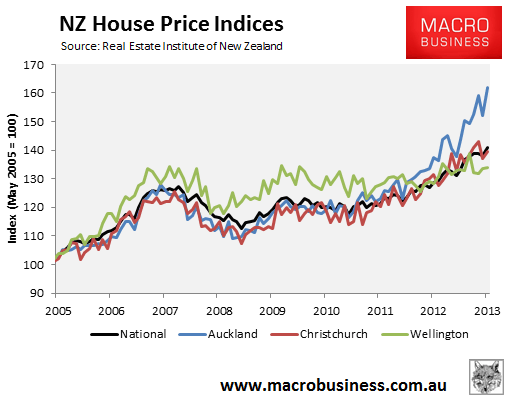 On an annual basis, house prices rose by 9.5% nationally in the year to August 2013 to be 10.7% above their November 2007 peak. Prices in New Zealand's largest city, Auckland, surged by 18.0% in the year to August 2013 to be 26.5% above their July 2007 peak. This was followed by New Zealand's second biggest city, Christchurch, where prices rose by 6.1% over the year to be 11.1% above their 2007 peak. Finally, prices in the capital, Wellington, rose by 4.4% in the year to August, but were still 0.3% below peak.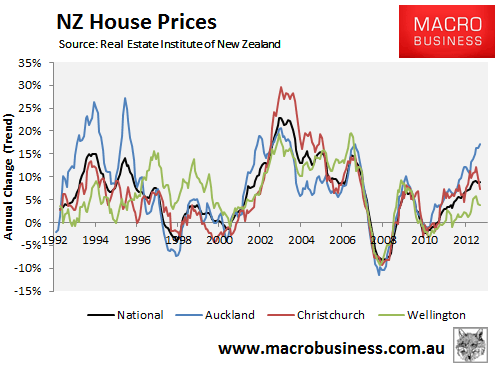 This time last month, it looked as though housing loan approvals were faltering. However, both rolling annual and year-on-year growth of loan approvals looks to have ticked-upwards in recent weeks, which should support values in the short-term (see below charts).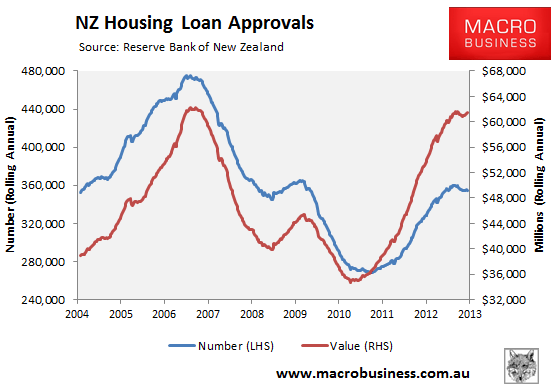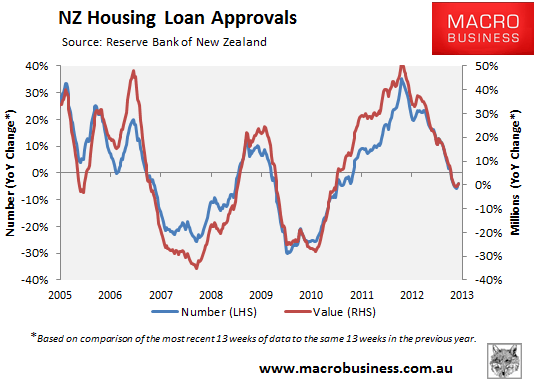 Finally, the latest BNZ-REINZ Residential Market Survey of licensed real estate agents around New Zealand "contained no good news for buyers", with "a record proportion of agents seeing the current market as a seller's one and investors are increasingly becoming the driving force". Further, "a net 51% of responding
agents feel that prices are rising – a result consistent with all other months so far this year".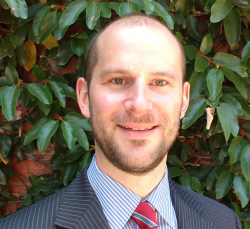 Latest posts by Leith van Onselen
(see all)