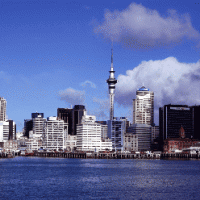 The Reserve Bank of New Zealand (RBNZ) has released further details on its plan to put "speed limits" on high loan-to-value (LVR) lending, which has recently accounted for around 30% of new lending over the past year. Under the proposed changes, mortgages with an LVR of more than 90% would still be restricted to 5% of new lending, whereas total new lending over 80% LVR would be restricted to 12%. However, banks would be allowed a six month window to slow lending once the reforms are implemented, in recognition of the fact that banks could have a pipeline of pre-approved loans. After the initial six month period, banks would then be required to comply with the rules on an average basis over a three-month period.

The RBNZ has not signalled when the LVR rules would come into force, however, most analysts expect them to be implemented before the end of the year.
A number of bank analysts have raised doubts over whether the LVR rules would be effective in slowing the rate of house price growth, instead noting that low interest rates and housing supply shortages, particularly in Auckland and Christchurch, would continue to drive house prices upwards in the longer-term. From Banking Day:
"We expect the introduction of a speed limit on high-LVR lending will only have a modest impact on house prices, and we will continue to see continued housing market pressures over the coming year," ASB Economist Christina Leung said.

Westpac Economist Michael Gordon said the speed limits would lead to a bi-furcation of mortgage pricing with cheaper mortgages under the 80% threshold and bigger premiums above 80 per cent, which may encourage more borrowing in the lower category.

"So we suspect that, over time, house prices would be bid up to much the same levels as they would in the absence of LVR restrictions – perhaps at a slower pace, with fewer competing bidders, but ultimately reaching a similar end-point," Gordon said, noting however there could be a short term 'sticker shock' of lower lending growth and housing sales in the three to six months after the speed limit is introduced.

"Any such short-term impact wouldn't change our overarching views on the housing market, nor should it be taken as a sign that LVR limits can 'fix' the housing cycle," Gordon said.
As noted on Monday, New Zealand mortgage growth already appears to be slowing, with year-on-year growth in loan approvals turning negative over recent months (see below charts).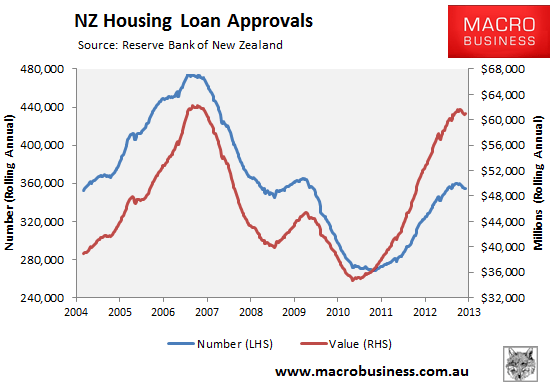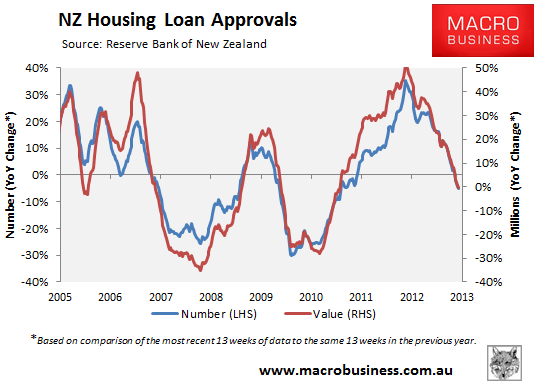 In fact, this slowdown in lending appears to reflect rationing by banks of high LVR loans in the lead-up to the poposed changes by the RBNZ. According to Banking Day, mortgage brokers reported that the slowdown in lending began in June shortly after the RBNZ agreed its 'toolkit' of macro-prudential tools with the Government.
That said, while rationing high LVR mortgages will help in moderating price growth via reducing mortgage demand and competition in the marketplace, the brunt of the impacts from these changes would be felt most by first home buyers, who don't have pre-existing equity to tap into. In this regard, making new homes more affordable via supply-side reforms is essential, as articulated by New Zealand's housing minister, Nick Smith, over the weekend:
Let me give you some of the facts on why freeing up land supply is a must-have component to improving housing affordability.

We released in February a joint Government/Council study on section availability and price in Auckland.

It showed that the number of available sections in Auckland has plummeted from 4,100 to 1,400 in the past decade.

Remember we need 13,000 new houses per year to keep up with Auckland's population growth.

The same study showed section prices soared from $100,000 to $325,000…

Further evidence of the land supply problem is in un-improved land values.

This block of 29 hectares of land at Flatbush was bought in 1998 for $890,000 but is now on the market for $112 million.

That's a 38 per cent compound return for 15 years.

No wonder people are speculating on land prices.

This obscene raw land price is the product of Auckland's Metropolitan Urban Limit and comes at the cost of kiwi families wanting to own a home in our largest city.

The rationale for such a tight urban limit around Auckland is flawed.

Auckland's future will be a mix of greenfield and brownfield developments, but we must not let rigid planning dogma get in the way of affordable homes for kiwi families…

We must also tackle the costs of council development levies.

They have trebled over the past decade, rising faster than any other component cost of a completed house.

They now average $13,000 per section but are as high as $64,000 per section in some areas.

The cause for this was a law change in 2002.

It gave licence for councils to charge developers whatever they liked.

The then Government argued this cost would just come out of developers' margins.

In truth, the cost was just passed on to the section or home buyer.
I have written previously about the deleterious impacts arising from the Auckland Council's policies of restricting the urban footprint, so I won't cover new ground. What I will say is that Auckland is already densely populated by Anglo standards (see below chart), casting doubts over the efficacy of the Council's drive for urban consolidation in light of the city's already sky-high housing costs.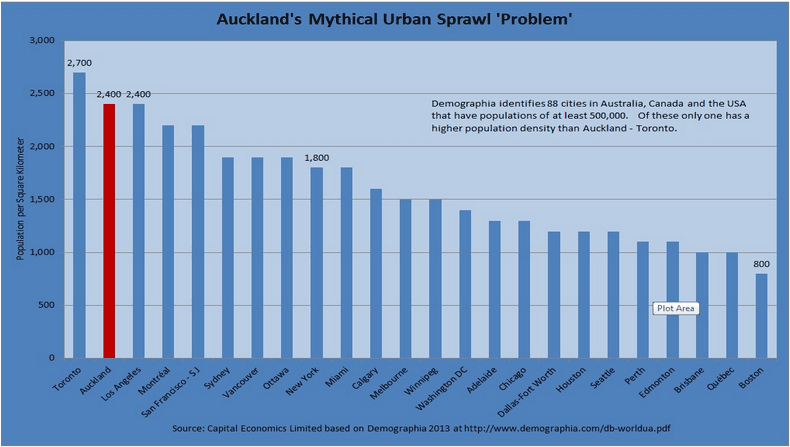 .
As an aside, it's also interesting to contrast New Zealand's politicians with Australia's. While housing affordability is front-and-centre in New Zealand, Australia's major political parties have remained completely silent in the lead-up to the Federal Election.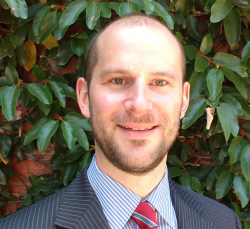 Latest posts by Unconventional Economist
(see all)