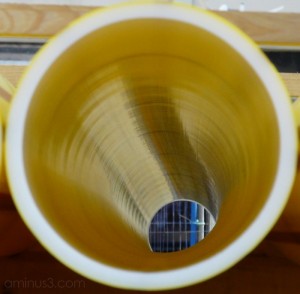 Wow, this is poorly thought through on pretty much every level. From the AFR:
The world's biggest energy companies have launched a multimillion-dollar advertising blitz warning that high costs could jeopardise the $150 billion gas boom, in a campaign reminiscent of the mining tax fight.

The Australian Petroleum Production and Exploration Association (APPEA) campaign warns approval delays, rising labour costs and "anti-gas misinformation" will jeopardise 150,000 new jobs and $40 billion in annual exports. "For too long, vocal minorities have dictated public policy – the tail has wagged the dog," BG Australia chairman and Reserve Bank of Australia board member Catherine Tanna told The Australian Financial Review. "The gas industry is too im­portant to Australians' well-being, jobs and economic future to be treated like a political rag doll."

The industry points to examples such as the approval of QGC's liquefied ­natural gas plant on Queensland's Curtis Island, which took two years, 4000 meetings and a 1200-page, 65-kilogram report that needed a wheelbarrow to deliver it.

Labor and the Coalition have ­promised to simplify environmental assessments and cut red tape, yet ­Parliament recently increased the regulation of water for coal seam gas projects. Parliament passed the laws with opposition only from the greens – which wanted to strengthen it.

…The campaign seeks to make the gas boom an election issue by asking the public to sign up via a website that sends their views to local MPs.
Let's start at the top. What is an RBA board member doing involved in a political campaign by a vested interest? I have supported having a few of these folk on the board given its good track record but this is ridiculous. The RBA's brand is now being deployed in the service of vested interest propaganda. It compromises the Bank's independence. It compromises its integrity. It compromises its role as a setter of ethical normatives.
Now, let's take a look at the objectivity of the claims made by APPEA (and the RBA). The only sovereign risk survey I know of against which we can measure the gas propaganda is that of century-old mining consultancy Behre Dolbear. Here are the results of its recently released 2013 survey: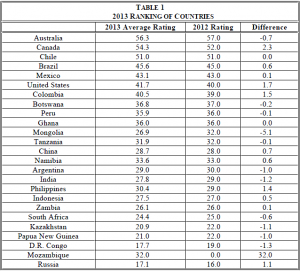 So, Australia comes in at number one, the best place to do mining in the world. OK, it's not gas specific, but there are broad areas of cross-over. Does it really stack up to say that Australia is lagging other countries so much when it currently hosts seven of the world's twelve LNG plants under construction and is set to become the world's largest LNG exporter by 2017?
Referring again to the Behre Dolbear report, Australia comes in at first or second on every category: economic and political system, social issues, permit delays and corruption and currency stability. It ranks much further down the list for its tax regime but is stable and very obviously offset by other factors.
Next, let's ask if this campaign is itself a useful idea for the gas sector. Is gas the kind of visceral household issue that could swing votes? Electricity prices perhaps but not gas, surely. And the link between the two isn't obvious enough to make it stick. Moreover, what exactly is the campaign's goal? It's not targeting one specific issue so lacks focus ("costs" is too vague). Perhaps it's aimed peripherally at the increasingly loud manufacturing campaign for gas reservation? But again, that's not going to swing votes. Nor is it aimed at one government or policy (though the timing makes it pretty obviously it's directed at federal Labor).
None of this is to argue that Australia does not have high costs. It most assuredly does. Wages are sky high for LNG producers and so is the currency. But if the industry is going to build seven LNG plants simultaneously in remote areas, including massive duplication in places like Gladstone, then what does it think is going to happen? The truth is Australia's gas regime has proven to be so generous that the mad rush to develop has created a cost bubble. This is the contradiction at the heart of the propaganda.
2013 Ranking of Countries for Mining Investment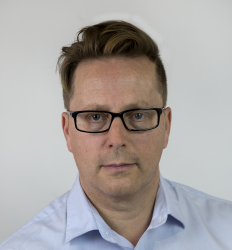 Latest posts by David Llewellyn-Smith
(see all)