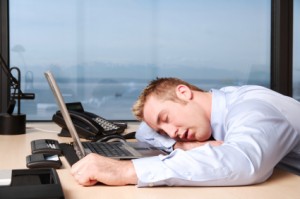 The Herald Sun has a report today on why sleep is vital for productivity:
The economic drain caused by lack of sleep has become so severe that health experts, industry, employer and union groups have combined to form the Federal Government funded Cooperative Research Centre for Alertness, Safety and Productivity.

In 2010 the Sleep Health Foundation, working with Deloitte Access Economics, found more than $800 million of direct health system costs were because of sleep disorders and it accounted for $4.3 billion of indirect costs, of which $3.1 billion related to lost productivity.

…Prof  Rajaratnam [of the new Centre] said people suffering sleep disorders used a range of pharmaceuticals they would not otherwise need.

"We estimate 1.5 million adults, or 9 per cent of the adult population, suffer one of the main sleep disorders – sleep apnoea, insomnia or restless legs syndrome. These conditions have all been associated with a wide range of health consequences including increased risk of cardiovascular disease, diabetes and mood disorders such as depression. The lack of alertness that comes with a lack of sleep is a major cause of accidents. Loss of sleep or poor quality sleep impacts on a range of core brain functions which include memory and higher order cognitive function processes which all impact on our workplace performance. In turn, there is increased absenteeism, illness and depression."
As an early morning blogger I concur!