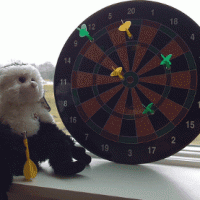 From SQM Research's Weekly Newsletter
Starting this week, I thought I might share with you something you really ought to know – the lag times between a property selling and its transaction record ultimately making its way to the various data reporters via the various state land title offices.
What is it's relevance, you may ask?
It has a direct bearing on the compilation and timeliness of various house price series to the point that preliminary data is just that – preliminary data. And, whether we like it or not, revisions in house price indexes are absolutely vital. Of course, I think it also proves that unrevised daily house price indexes are in no way more accurate than throwing darts at a dartboard.
The underlying data of the below charts comes from the various land titles offices around the country. It was updated and sent to us on the 3rd of June 2013 and represents all records that came from the state land titles offices during the month of May. The charts represent effectively a distribution curve of lag times between the date a property was sold at contract (exchange date) and the date the record was sent from the land titles office.
Firstly, here is NSW: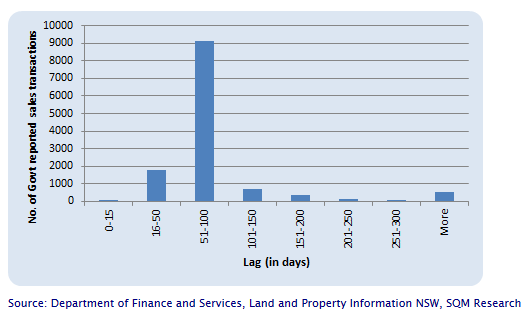 Of the 12,736 sales records sent through during the month of May, the average lag time was 110 days, meaning most of the records sent throughout May actually represented sales that happened in March, February or even earlier. Just 46 records were reported through within 15 days of the exchange date. In contrast there were over 544 records that had over a 300 day lag.
Next, QLD: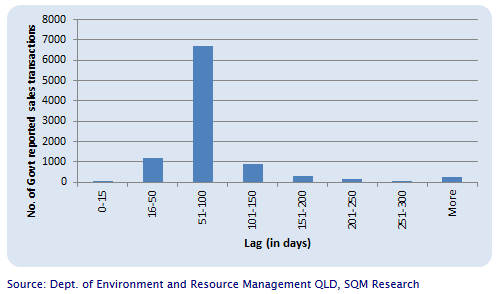 In Queensland, there were 9534 properties reported through during May with an average lag time of 91 days. In this case, just 15 properties were reported within 15 days of the property being exchanged. In contrast there were 235 properties that had over a 300 day lag.
And lastly Victoria: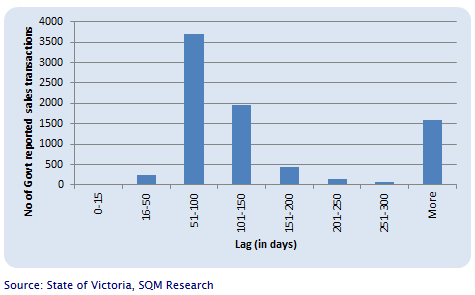 The average lag time was a staggering 221 days and that was after presuming that anything with over 2000 days was an error in the data sent. Many of those with extended lag dates of over 300 days were units. No doubt ones where the property has taken years to settle due to extended delays in construction. And note, there was just ONE record that were reported within 15 days of the property exchanging contracts. JUST ONE PROPERTY.
Perhaps now you can see just one of the reasons why I seriously question this daily index from RP Data. To be fair in all this, I know all reporting bodies including ourselves, receive data from other sources including real estate agents. However, compared to the total sales volumes that come from the state government departments, these other sources only represent a fraction of all sales that took place. Needless to say, data reporting needs to be cleaned up as the current state of affairs is appalling.
More on all this next week including the data from other states.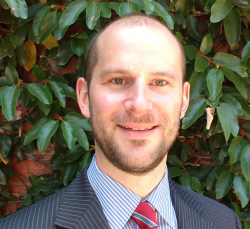 Latest posts by Unconventional Economist
(see all)