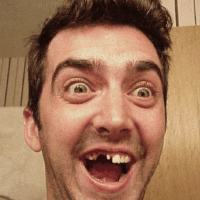 Propaganda from the loon bin seems to fill ever more pages of the mainstream media. Take this recent example from the UK
Higher state pension ages are not only possible (given longer life expectancy) and desirable (given the fiscal costs of state pensions) but later retirement should, in fact, lead to better average health in retirement [emphasis added]. As such the government should remove impediments to later retirement that are to be found in state pension systems, disability benefit provision and employment protection legislation.

…

The policy implication of this research is that policymakers should remove disincentives to continue work in old age. This does not mean that politicians should force people to "work till they die", but that they should entirely remove disincentives to stop working.
It's entirely doublespeak. "Remove disincentives" sounds good – don't want any of those bad disincentives laying about. But when you remove the double negative you simply get "create incentives". Create incentives to work longer. Make it more difficult to retire.
And the basis for this recommendation? That people who are retired are less healthy than those who are not. Therefore, in the interest of public health we should make people work longer.
It won't be long before the CIS or IPA pick up on this argument and bring this nonsense to Australia. So let's make a preemptive strike.
For a start, the first line of the document is completely incorrect
Since the Second World War three factors have combined to produce a significant reduction in the working population as a proportion of the total population. Those factors are: declining fertility rates; increasing life expectancy; and the emergence of retirement as a widespread phenomenon.
Nonsense. Take a look at Australia. Since the 1960s the dependency ratio has been falling and the participation rate of those aged 15 years and over has been steadily improving. Same in the UK, US and Canada.
It will take many decades just to get back to the dependency ratios seen in the 1970s. And all of this also ignores the massive, yet typically unnoticed decline of youth dependency over the same period. Given the fertility trends globally, youth dependency is likely to continue to decline, counterbalancing the increased age dependency.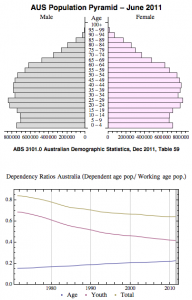 Not only is there a glaring ignorance of the counterbalancing dependency effect from ageing and low fertility, the report relies on earlier work that exploits a European life survey covering three periods starting when respondents are between 50-69 years old. If you care to look at the results you find that when a retired dummy is included in the regressions it is significant, but make the age variable insignificant. Essentially, since age and retirement are highly correlated, interpreting the power of each individual 'independent' variable (remembering that they are now not in fact independent) is nigh impossible. Multicollinearity sucks.
The argument that retirement causes poor health is simply rubbish. Essentially this whole propaganda piece is based on bad statistics that show that people get sick as they get older once in their 60s. Sad but true.
What is more dismaying is the media coverage. No expert in the field is consulted to help interpret the report or provide an impartial opinion. This nonsense even gets a run at the BBC.
Be warned.
Latest posts by Rumplestatskin
(see all)