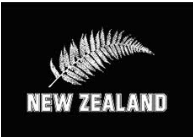 It has been well documented on this site that the New Zealand housing market is, once again, facing bubble-like conditions, with prices in its two major markets – Auckland and Christchurch – rising strongly on the back of low interest rates, increasing credit availability, and tightened supply (see next chart).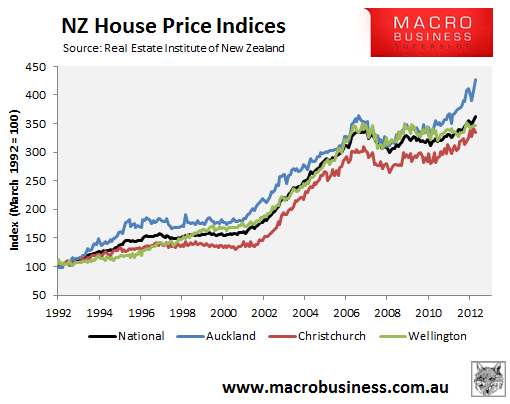 A housing confidence survey for the three month to April, released today by ASB Bank, showed a record 63% of survey respondents expect house prices to rise over the next year – higher than at any time during the 2000s housing boom (see next chart), with expectations of price growth broadening beyond Auckland and Christchurch.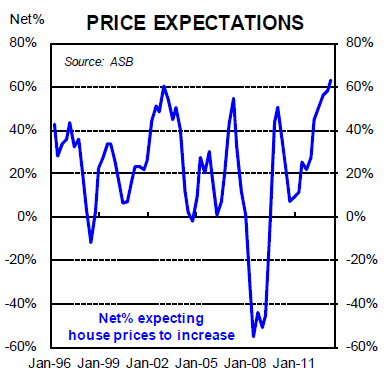 The Reserve Bank of New Zealand (RBNZ) has grown increasingly uneasy about the growing imbalances, which include not just rising housing prices but also New Zealand's "significantly overvalued" currency, which is placing extreme pressure on its tradeable goods sector.
Accordingly, the RBNZ has today moved to arrest the situation by implementing so-called macro-prudential controls on high risk mortgage lending. Under the measures, the RBNZ will initially increase the capital that must be held against high loan-to-value ratio (LVR) mortgages issued by the Big Four banks (owned by Australia's Big Four), which have to date used their own opaque internal models to calculate (and reduce) their Basel capital adequacy requirment.
The changes, which will come into effect from end-September, are expected to increase the capital held against mortgage lending by an average of 12%, and are aimed at tempering the credit/house price cycle and improving financial stability. The rationale behind the changes are explained in the below RBNZ media release (my emphasis):
While the financial system remains sound, developments in private sector credit and the housing market point to increasing risks to financial stability in New Zealand, Reserve Bank Governor Graeme Wheeler said today, when releasing the Bank's May 2013 Financial Stability Report.

"Housing pressures are increasing risk in the financial system," Mr Wheeler said. "House prices relative to disposable incomes are already high by international standards. Further price escalation will worsen the potential damage that could result from a housing downturn following an economic or financial shock.

"Our concerns are shared by the OECD and by the IMF in its recent review of the New Zealand economy. Housing risks have also been noted recently by all three of the major international credit rating agencies.

"Housing pressures, arising from pent-up demand, limited supply and the lowest interest rates in 50 years are being felt particularly in Auckland and Christchurch, where supply constraints are greatest. Demand is being underpinned by easier credit conditions, both in terms of lower mortgage rates and an increased willingness by banks to lend at high loan-to-value ratios (LVRs)."

Mr Wheeler said a strengthening of global financial market sentiment in recent months is contributing to the easier conditions by reducing bank funding costs and making offshore funding more readily available. "Global sentiment is also contributing to New Zealand's overvalued exchange rate, which is continuing to hinder a rebalancing of activity towards the tradables sector that would assist in reducing external vulnerabilities."

With the credit cycle now turning upwards, there are signs that the post-GFC recovery in household savings may be stalling. Household debt is rising from a level that is already high relative to incomes…

"Reflecting our concerns around housing sector developments, the Reserve Bank has been developing a macro-prudential policy framework. We have recently consulted on this framework and will soon be signing a memorandum of understanding with the Minister of Finance to confirm the key elements of the policy, including governance arrangements," Mr Wheeler said…

"Looking forward, we want to ensure that bank capital requirements adequately reflect the risks around housing lending and accordingly we are undertaking a housing capital review. In the first stage of this review the Bank is increasing the risk weights applying to high LVR housing loans for the four major banks that use their own models as a basis for calculating minimum capital requirements.

"The increase in the risk weights, applying to all current and new high LVR loans for the major banks, will result in an average increase in capital held for housing of around 12 percent and will take effect from 30 September 2013.
Obviously, we believe the implementation of macro-prudential controls by the RBNZ is a great move. In principle, it should provide the RBNZ with greater scope to lower interest rates and place downward pressure on the currency, without risking further significant house price appreciation.
Hopefully, the move by the RBNZ will also put pressure on the RBA and APRA to consider similar macro-prudential measures.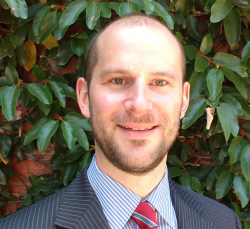 Latest posts by Unconventional Economist
(see all)