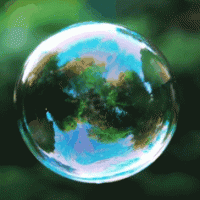 New Zealand house prices surged again in April, with the national stratified median price hitting a record $412,500, but prices in New Zealand's biggest city – Auckland – falling slightly from last month's record to $595,500 (see next chart).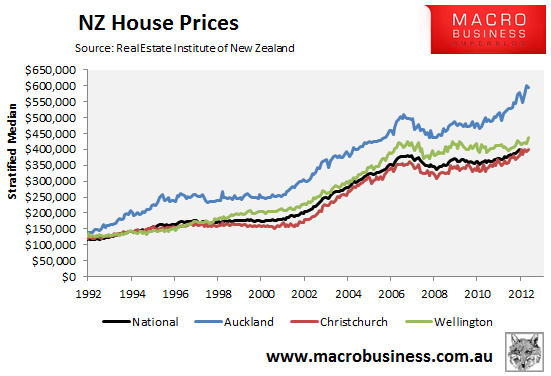 House price growth across New Zealand is accelerating (see next chart). Nationally, house prices rose by nearly 10% in the year to April 2013 to be 8% above their November 2007 peak. Prices in New Zealand's largest city, Auckland, surged by 14% in the year to April 2013 to be 17% above their July 2007 peak. This was followed by New Zealand's second biggest city, Christchurch, where prices rose by 13% over the year to be 10% above peak. Finally, prices in the capital, Wellington, rose by 9% in the year to March to be 3% above their September 2007 peak.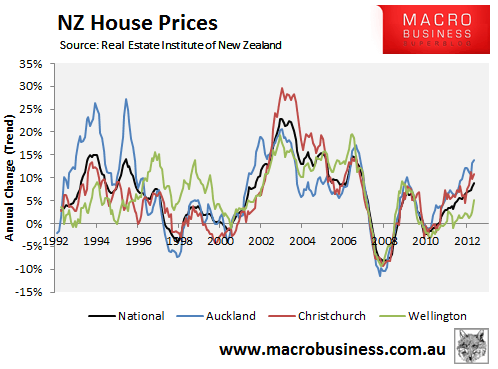 The strong growth of New Zealand housing values has prompted the International Monetary Fund (IMF) to warn that New Zealand house prices are 25% overvalued, up from between 10% and 20% previously. From the IMF's Article IV Consultation Report:
The median house to income ratio rose from 3 in 2000 to about 5 in 2007, before declining to about 4½ in the last five years as incomes outpaced nominal house price growth…

Despite the recent decline, various measures still point to overvalued house prices. Model based analysis suggests an overvaluation of about 25 percent. Price income ratios are 20 percent higher than the average of the last three decades. Price to rent ratios, which also rose significantly during last boom, show an even larger overvaluation…

From this high base, house prices are beginning to rise again, particularly in Auckland and Christchurch… The recent price pick up creates the risk of speculative demand that could induce price overshooting. Supply response will take time, and increased demand is likely to continue…
As expected, the IMF puts New Zealand's housing overvaluation down to the usual suspects: easier credit combined with supply constraints.
There are several underlying supply and demand pressures contributing to high and rising house prices in New Zealand…
New Zealand has one of the highest rates of growth for working age population among OECD countries—over the last 30 years New Zealand has experienced population growth well above the OECD mean…

Housing investment fell sharply in the wake of the global crisis and has been below 4 percent of GDP in the last five years, the lowest level in 40 years and relatively low when compared to other countries. Meanwhile, net migration continued to be positive over those years increasing demand.

Low inflation and high global liquidity has pushed mortgage interest rates to their lowest level in 40 years. The fall in mortgage rates in recent years has helped offset the effect of higher house prices on mortgage debt service, and has allowed households to take on more debt despite already high debt-to-income ratios.

Supply of housing is constrained in Auckland for regulatory reasons. Land availability is cited as a major constraint, with the price of vacant land more than tripling in the last 10 years. The slow pace at which land for housing is planned, zoned and released contributes to the high price of sections and thereby house prices. Also compliance costs for development and construction are high and the associated delays are a significant burden.

The market of Christchurch, the second largest city with a population of about 400,000 people, is undersupplied as a consequence of earthquakes that damaged 150,000 houses, 30,000 of which seriously.

During the last construction boom, the cost of building a standard house has increased at a greater rate than inflation adding upward pressure on prices. Currently, the cost of both building materials and building a standard house is substantially higher than in Australia, a comparable market. Industry productivity is flat-lining, and this is reflected in growing building costs and evidence of poor building quality. Evidence suggests that the productivity performance of the construction industry over the past thirty years has been poor relative to other New Zealand industries, and relative to other countries. In particular, the lack of scale in the residential construction industry presents a significant barrier to productivity growth.
Elsewhere in the report, the IMF warns that rising house prices could "lead to an increase in debt-financed household spending which would put pressure on aggregate demand and increase the risk of an abrupt price correction". It also notes that "the current accommodative monetary policy stance is appropriate, but may need to change if house price and credit expansion begin to fuel excessive consumption spending and inflationary pressures".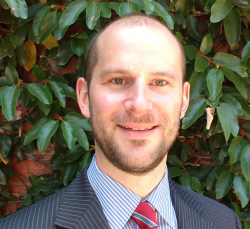 Latest posts by Unconventional Economist
(see all)