A new McKinsey report has everyone excited. From the AFR:
The challenge is great – we need to be more productive than our competitors in a whole host of areas to close what is a significant competitiveness gap. Improved productivity is the key, and a collaborative approach between individual companies, the industry, policy-makers and regulators is required. If Australia cannot achieve this productivity improvement, other countries will offer a cost advantage to LNG buyers. Further, LNG demand may not remain strong indefinitely. Australia's window of opportunity is now – it may close. Hence the urgency of improving the cost of building LNG projects in Australia before it is too late.

The good news is the competitive gap can be filled. Proven measures exist that can bridge the cost gap, and even surpass it. We have quantified a range of options available to close the gap, in the hope this will create a fact base to help the relevant parties choose what they will do. The options fall into six categories – further project optimisation, industry collaboration and infrastructure sharing, efficiencies in the service market and supply chain, labour productivity, regulation, and taxes.
That sounds admirable and bring it on. But I doubt it can be done swiftly. Moreover, many of the reasons that Australian LNG is struggling to attract new investment are not directly cost related. They are strategic. From AAP:
Australia faces a hiatus in new liquefied natural gas (LNG) projects as buyers switch their focus to the United States, according to research consulting group Wood Mackenzie.

…Wood MacKenzie head of Australia Upstream Andrew McManus said the five key issues driving buyer motivations were supply portfolio diversification, exposure to Henry Hub pricing (a distribution hub on the natural gas pipeline in Louisiana USA), greater flexibility in contract terms, sanctioning time on projects, and access to upstream equity.
If I'm a Japanese buyer I'm going to break Australia's stranglehold on projects, oil-linked contracts and pricing. Simple as that.
None of this is to say that Australian LNG is doomed, though I do think that the big fixed asset projects will be marginal. All of them are around $12 mmbtu on the cost curve, which is roughly where I expect the long term LNG price to settle (although they will have contract pricing protection):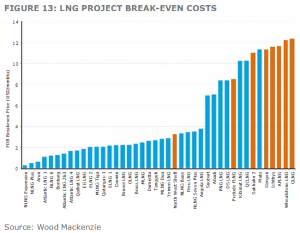 Indeed, rather than rush into another cost-inflating bubble, Woodside has learned its lesson. The future will be FLNG and its advantage of incremental deployment. From The Australian:
In the next couple of weeks, Woodside is expected to tell the federal and West Australian governments how much the abandoned plant at James Price Point would have cost and propose a way forward with the Browse site's retention lease.

Mr Coleman said this decision was not far off but would not involve selecting a concept.

He said he was very confident FLNG at Browse would be economic.

"The joint venture is aligning around a preferred option; each of the houses is going through its own valuation but it's going to be sooner rather than later," Mr Coleman said.

The initial final investment decision will probably be for one or two floating platforms.

"It allows us to manage our capital requirements much better because you are not hitting the market with tens of billions of dollars at once," he said.

"You come in, you do one; a couple of years later you come in and do another and a couple of years later you come in and do another."
Quite sensible. But it will take the next few years at least to get going and I repeat that we would be ill-advised to cut taxes given the primary benefit to the nation will be the tax take as construction goes largely to Korea.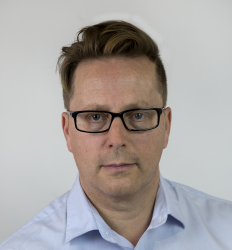 Latest posts by David Llewellyn-Smith
(see all)