I've argued for almost two years that there is no cause to worry about inflation preventing rate cuts in Australia. And all things being equal that's likely to continue.
The problem is that I don't see things as remaining equal. As we go over the mining investment cliff and the terms of trade continues to slide in the next year, we are going to see lower interest rates, even if property bubbles along.
Sooner or later this is going to make the dollar fall and when it does the inflation problem will present itself. Here is the charts that tells you why, courtesy of ANZ: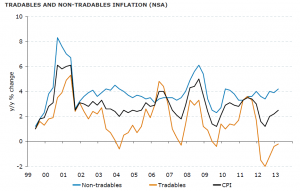 ALL of the soft inflationary outcome of the past several years has been recorded in the tradable sectors of the economy, those exposed to the Australian dollar. Non-tradable goods and services inflation is in a gentle up trend breaking above 4%.
When the dollar falls, and it will, inflation will spike in the economy, especially if property prices are still bubbling along and supporting non-tradable activity.
This is why it is SO vital that we begin to discuss and plan new monetary policy options, like macroprudential tools. We're going to need them. We already do.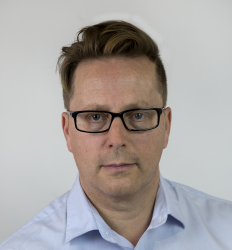 Latest posts by Houses and Holes
(see all)