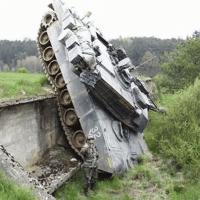 The recent housing recovery across Melbourne appears to be built on shaky foundations, with data released today by the Department of Sustainability & Environment (DSE) showing the number of housing transfers across Victoria in March falling to their lowest level in the series' 11-year history (see next chart).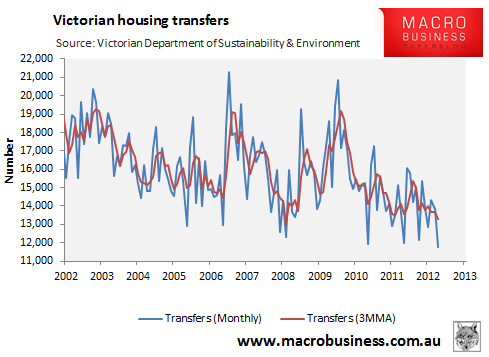 Not only was it the lowest monthly reading on record, but transfers on a rolling annual basis also hit a fresh low, with just 167,200 transfers taking place in the year to March 2013, -14% below the 10-year average (see next chart).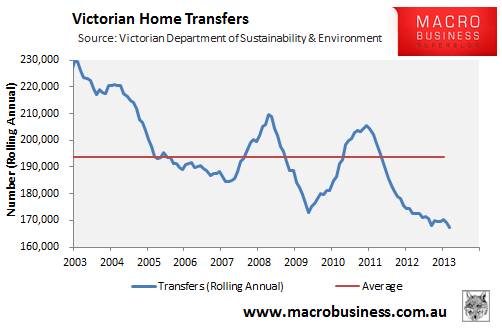 The Victorian Government, which is highly reliant on stamp duty revenues, will no doubt be lamenting these figures. It had previously forecast a recovery in stamp duty receipts in 2012-13, which now looks highly doubtful (see next chart).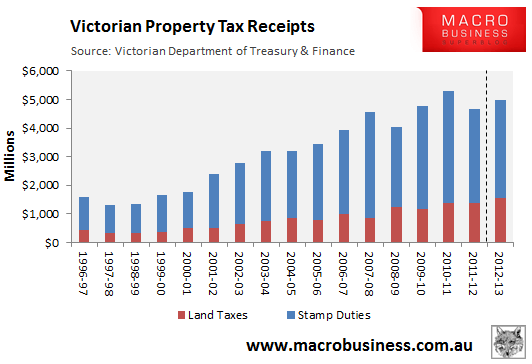 The DSE's mortgage finance statistics are unique in that they provide data on both mortgage lodgements (i.e. new mortgages) and mortgage discharges (i.e. mortgages repaid in-full). Below is a chart showing both series on a 3MMA basis: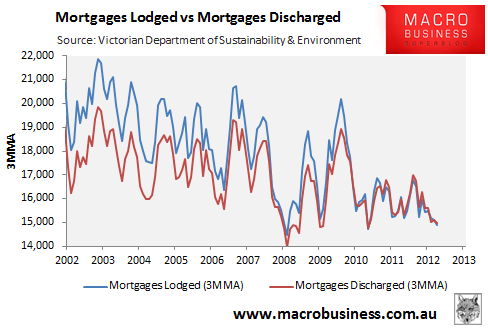 And the next chart shows the same data on a rolling annual basis: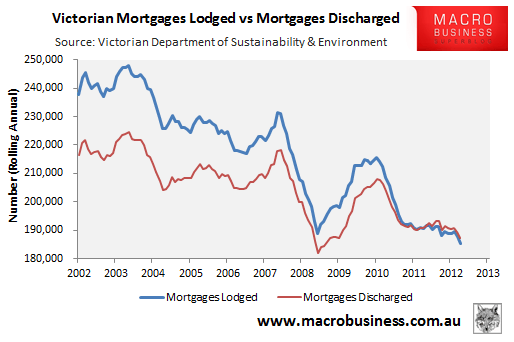 And below is the number of net new mortgages created, calculated by subtracting mortgage discharges from mortgage lodgements: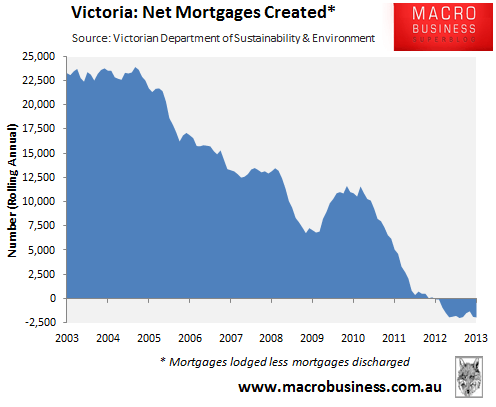 According to the DSE, the number of mortgages lodged in the month of March was -482 less than the number of discharges (i.e. 12,901 versus 13,383). On an annual basis, the number of mortgages discharged (187,189) also continued to exceed the number of mortgage lodgements (185,247), meaning that -1,942 mortgages were lost in the State of Victoria in the 12-months to March 2013, up from -1,887 mortgages lost in February. This compares to the average of 12,442 annual net mortgage creations since the series began in 2002.
Despite the recent pick-up in Melbourne house prices, the data has worsened once more and suggests that the Victorian (Melbourne) housing market remains on a fragile footing.
Leith van Onselen is Chief Economist at the MB Fund and MB Super. Leith has previously worked at the Australian Treasury, Victorian Treasury and Goldman Sachs.
Latest posts by Unconventional Economist (see all)