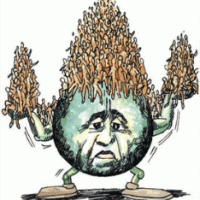 Politics is full of contradictions. Take my pet topic, housing, where all sides profess to care about affordability, yet continue to run policies that run counter to that goal, including biased tax rules (e.g. negative gearing), demand-side stimulus, restrictions on land supply, and inadequate provision of infrastructure.
Arguably, the biggest contradiction relates to Australia's population policy. In 2007, the Rudd Labor Government was elected partly on the platform of environmental responsibility, including ratifying the Kyoto Protocol emissions reduction targets, as well as introducing an emissions trading scheme or carbon tax. At the same time, the Government embarked on one of the biggest immigration programs (in number terms) this country had ever seen, whereby net overseas migration hit a peak of 315,700 in the year to December 2008. How politicians think that emissions (outputs) can magically fall as the number of people (inputs) increase year after year not only defies the laws of mathematics, but is disingenuous in my view.
To make matters worse, the one party that should care – The Australian Greens – are conflicted on this issue, seemingly caught between supporters who value Australia's role accepting more refugees and providing opportunity for migrants (no doubt an admirable ambition), but also beholden to supporters who see people as the ultimate environmental problem. Accordingly, they offer no coherent population policy, enshrewing population targets or caps on immigration, while somehow still demanding "net zero or net negative Australian greenhouse gas emissions within a generation". Ditto the Greens' housing policy, where they contradictorily yearn for affordable housing, yet seek to limit the urban footprint as the population expands (read restrict land supply).
Yesterday, Crikey's Cathy Alexander published an article exploring further the contradictions inherent in our march towards a "Big Australia" and the nation's emissions reduction targets, and questioning why policy makers are refusing to debate whether the projected doubling of the population is environmentally sensible:
The federal government's data on greenhouse gas emissions for the December quarter points to the major impact the population boom has had on Australia's emissions. Here's the Crikey number-crunching that shows why it might be time to talk about the environmental impact of Australia's growing population. (This is a crude statistical analysis, but you won't find the government — both major parties support and plan for significant population growth — doing it. So we had a go.)

Australia's per capita emissions actually dropped between 1989 and 2012. But the population increased by 35% during that period, and overall national emissions soared by 32%. That took national greenhouse gas emissions from 418 megatonnes a year in 1990 to 552 megatonnes in 2012 (a megatonne is 1 million tonnes).

Australia has a high rate of population growth, caused in part by a relatively high rate of immigration. What would the country's emissions be if that was not the case?

The ABS calculates that in the decade to 2007, the population grew by 1.3% pa on average, with "just under half from net overseas migration"…

Based on those numbers, if Australia had net zero migration from 1989 to 2012, we can estimate the population would have increased from 16.9 million (1989) to roughly 20.4 million (2012).

And based on the government's calculation of current per capita emissions, that would give us total national emissions in 2012 of 495 megatonnes. So our actual total emissions are 11.5% — or 57 megatonnes — higher than if we had had net zero migration…

So what? Well, the body politic is consumed with how to meet the bipartisan target to reduce national emissions to 537 megatonnes of emissions per year in 2020. It's an issue that has toppled prime ministers, helped decide elections and keeps politicians awake at night.

The short answer is that we might well be meeting that target already if we did not have the population boom.

With the swelling population, it's a different story. Australia's headcount stands at a ticker under 23 million. The ABS predicts there will be between 31 million and 43 million of us in 2056. By 2101, the ABS estimates it could be as high as 62 million.
Please don't interpret this post as a rant against immigration or environmental responsibility. It isn't. What I (and presumably Crikey's Cathy Alexander) am attempting to point out is the huge contradictions inherent in Australia's emissions reduction targets and its ongoing high population growth, which is driven primarily by Australia's immigration program.
It will be next to impossible to achieve our stated emissions reduction targets so long as the population expands year after year. Both issues need to be viewed together, and until our politicians do so, I will continue to switch-off when they lecture us about curbing Australia's emissions footprint.