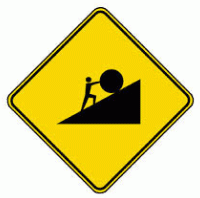 Yesterday, Jessica Irvine has posted an interesting article on Business Spectator on the budgetary headaches facing the federal government as the commodity price boom unwinds:
At one point, nominal GDP was growing 7 per cent plus a year, while the real economy grew just 3 or 4 per cent. As commodity prices soared, national income grew much faster than output. The gap between real and nominal GDP grew.

It all seemed too good to be true. It was.

This year the budget is shaping up to be a revenue bloodbath. Murmurings from within government are not good.

Treasury sources are now shaking their heads over another spectacular economic phenomenon: the collapse in nominal GDP growth. Never before in Australia's history has nominal GDP grown by less than real GDP for three consecutive quarters as it did in the final nine months of last year.

Nominal GDP has only lagged real growth on three occasions since national accounts began in the 1950s: during the 1961 post-Korean wool boom recession, the 1997 Asian Financial Crisis, and of course the Global Financial Crisis.

The winding down of our biggest commodity boom since the Gold Rush days is upon us. The Reserve Bank sees the peak of the investment boom later this year.

But the peak of the nominal GDP boom, and hence government revenue boom, is well behind us already.

Journalists and other interested onlookers can now expect revenue write downs as big as the revenue windfalls of a decade ago.

That is the big back-story to Wayne Swan's sixth budget.

It's easy to feel sorry for Swan. His predecessors presided over the halcyon days of the mining boom. He got a global financial crisis and the end of the boom.
Irvine makes some good points. Nominal GDP is the dollar value of what's produced and earned. It's also the measure that drives taxation revenue. Nominal GDP grew by just 2.0% in the year to December, far below real GDP growth of 3.1%. While the fall in nominal GDP below real GDP is unusual, having happened only a handful of times since the late-1950s, it has happened twice under the current Labor Government's watch: during the GFC and currently (see next chart).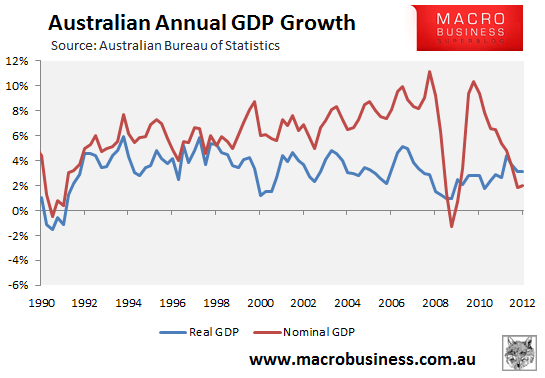 The Howard Government, by contrast, experienced ever growing nominal GDP growth as commodity prices surged, whereby it reaped the benefits of growing personal and company taxes, not to mention increased capital gains taxes as asset markets boomed. Put simply, it was an easy time to be in government as revenues rose year after year and global economic conditions were benign. The current government has not been so lucky.
Whoever wins the upcoming federal election is likely to face ongoing budgetary challenges. Not only is the terms-of-trade expected to continue to fall as commodity prices retrace – weighing on both disposable incomes and nominal GDP – but the working age population are projected to shrink over time as the baby boomers enter retirement (see below Treasury chart).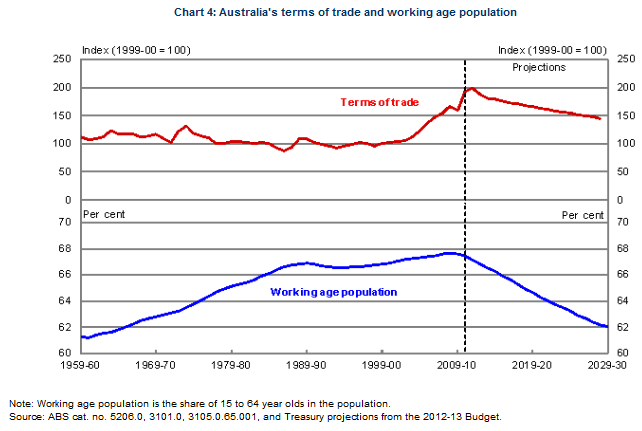 The broader risk is that commodity prices fall more sharply than expected, resulting in a faster than expected collapse in mining-related capital investment. In such an event, the next federal government would face a sharp contraction in incomes and jobs, resulting in big falls in taxation revenues and expanded fiscal outlays as automatic stabilisers kick-in and stimulus measures are deployed to support the economy.
It will be a difficult period for whoever is in government.