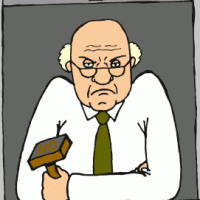 Earlier this week, the president of the Business Council of Australia (BCA) called for a "hard cap" on the size of Government, which comes as the incumbent federal Labor Government faces pressure to cut the bureaucracy of more than 900 agencies and bodies.
It's an interesting topic. As noted previously, the ongoing slump in stamp duty and GST receipts – both of which are a major source of tax revenue for the states and territories – as well as sliding company tax and capital gains tax receipts at the federal level, have forced Australia's governments to make cut backs to government expenditure and public sector jobs. In fact, the latest quarterly ABS employment report showed that "public administration and safety" – a proxy for the public sector bureaucracy – shed nearly -19,000 jobs (-2.6%) in the year to February 2013, which was on of the biggest retrenchments of any industry in Australia (see below chart).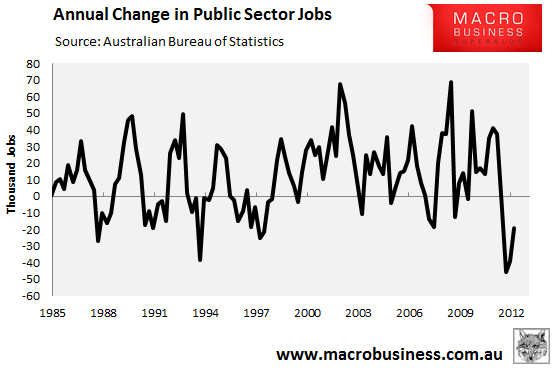 While the level of public sector retrenchment has been significant over the past year, one could easily argue that further job cuts are required in order to restore public sector employment to historical norms. To illustrate, the next charts plot the proportion of the population working in "public administration and safety" against the population in each state and territory in order to see how public sector employment has changed over time: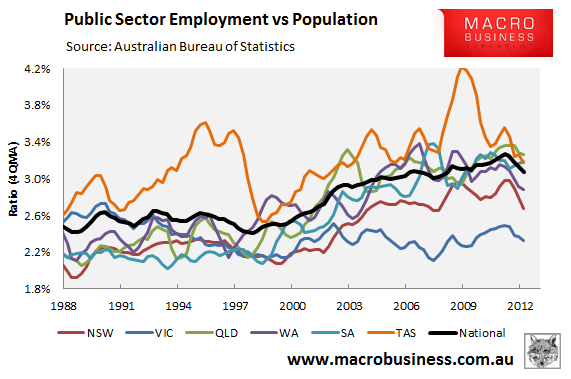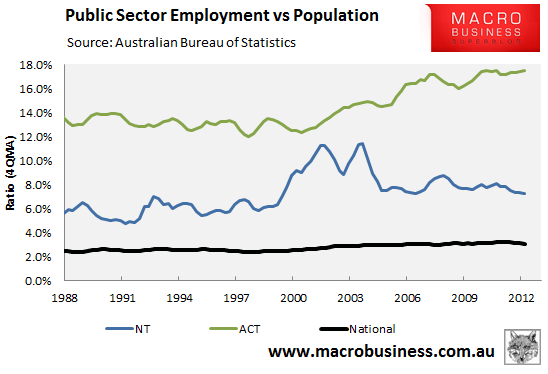 As you can see, the bureaucracy has grown significantly since the late-1990s, from around 2.5% of Australia's population in 1998 to around 3% currently.
The increase in the public sector workforce could be explained by the surge in taxation revenue following the property boom, which significantly increased stamp duty receipts, as well as the introduction of the GST in 2000, which is redistributed from the Commonwealth to the states and territories. Increasing mining royalties have also played a role in Western Australia, Queensland, and New South Wales, whereas the joint mining and property booms increased personal, capital gains and company taxes federally. The large boost in tax revenues allowed Australia's governments to grow the public service whilst still maintaining healthy finances.
However, with stamp duties and GST revenue no longer growing as expected, as well as lower company tax and capital gains receipts (amongst other things), the state, territory, and federal governments are now being forced to cut back on expenditure and jobs in an attempt to restore their budgets to surplus and protect their credit ratings.
A back-of-the-envelope calculation suggests that the public service head count would need to be cut by around -100,000 nationally in order to shrink the public service back to its average level since 1984 (2.7% of the population), although the cuts would not be uniform across jurisdictions: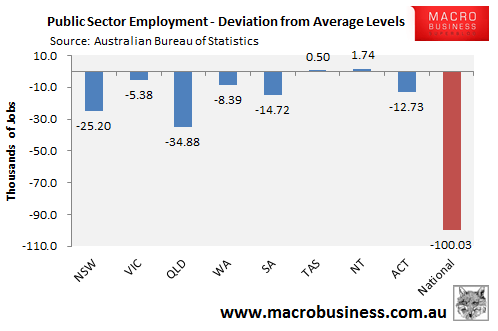 Having worked as an economist in both the federal and Victorian bureaucracies, my personal view is that Australia has too many public sector agencies and too much duplication across federal and state levels, and there is significant scope to streamline operations and trim back office staff without adversely affecting (or even expanding) front-line service delivery (e.g. nurses, teachers, social workers, etc).
What do you think? Is the public service in Australia too big, requiring trimming? Or would such actions adversely affect the delivery of essential services?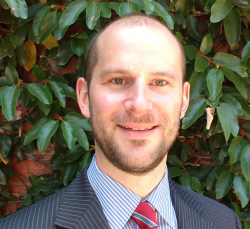 Latest posts by Leith van Onselen
(see all)