The Property Council-ANZ Property Industry Confidence Survey was released yesterday and showed confidence amongst property industry professionals rising for the second consecutive quarter, with the index hitting an 18-month high of 124 (a score of 100 is considered 'neutral').
According to ANZ Chief Economist Warren Hogan:
"Notwithstanding renewed European concerns and rising tensions on the Korean peninsula, global economic and market sentiment have improved markedly in 2013. Expansive monetary policy settings have buoyed global liquidity and equity markets have rallied strongly."

These factors, combined with low interest rates and improved buyer/investor interest have boosted property market sentiment.

"Increased population growth and subdued home building activity will see demand/supply fundamentals tighten further," Mr Hogan said.

"Nonetheless, difficult affordability perceptions and an ongoing sense of caution in the household and financial sectors will limit the rebound in house prices in this cycle."

Mr Hogan says national economic growth expectations also improved sharply, moving into positive territory in the June quarter.

"The high Australian dollar remains a key challenge for many businesses and with mining investment approaching a peak, the Australian economy will become increasingly dependent on a cyclical rebound in the non-mining economy," Mr Hogan said.

"The RBA will likely retain a mild easing bias in 2013, and we continue to expect an extended period of low interest rates, with property markets likely to be a key beneficiary."
As you can see from the next chart, all states and territories are showing increasing levels of confidence, with Western Australian property professionals the most optimistic and those in Tasmania and the ACT the least optimistic: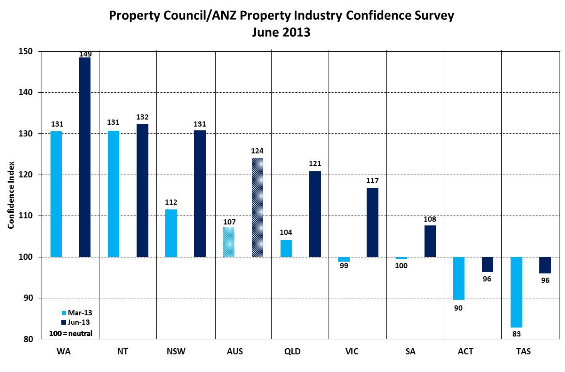 Expectations around house price growth have also turned positive across all markets, except the ACT, with property professionals operating in Western Australia and the Northern Territory the most bullish, and those in the ACT and Tasmania the most pessimistic (see next chart).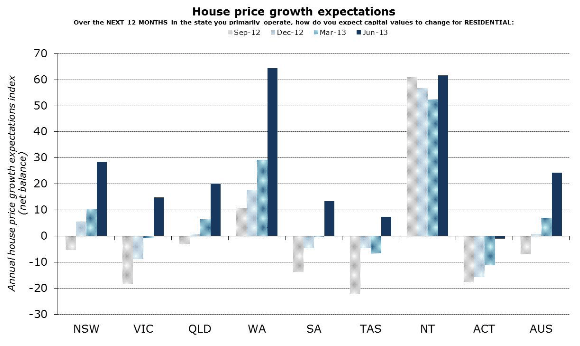 It's hard to know whether to interpret this survey as a leading or lagging indicator, given that the sharp turnaround in sentiment and price expectations likely reflects (at least in part) the recent bounce in house prices.