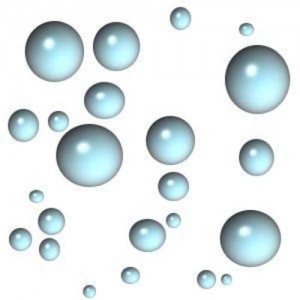 The AFR has a solid report today on the slippery slope LNG is headed down:
US exports linked to the domestic American Henry Hub price – at least three years and billions of dollars of investments away – can't come quickly enough for Asian buyers.

"Chubu Electric is positively seeking change in the energy market," said Yuji Kakimi, managing executive of the large Japanese utility. Japan is short of energy due to the shutdown of nuclear plants following the Fukushima disaster.

Cheniere says it will be able to deliver gas to Asia at a cost of $US10.60 per million British thermal units from late 2015, at a Henry Hub price of $US4 per MMBTU. The prevailing price under oil-linked contracts in Asia is $US14-$US15.
This accords with my assessment of the delivery price of American LNG into Asia. This may sound a still decent price and it sure is if you have some legacy assets. But what if you just developed your LNG capacity in the past few years in Australia? This chart from the recent ANZ major projects report will cause dyspepsia: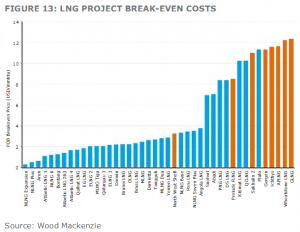 Six of the seven recent boom LNG projects sit above $10 on the LNG cost curve, several above $12. The AFR goes on:
Trying unsuccessfully to referee the players out of their trenches are consultants such as Fereidun Fesharaki, chairman of FACTS Global Energy and a former Iranian representative at OPEC in the 1970s.

US exports will not be the "fantastic panacea" the Asian buyers are counting on, Mr Fesharaki told the LNG 17 conference in Houston last week. He expects crude oil prices to fall over the next two years due to slowing demand growth, and Henry Hub prices are rising again after a long slide.

"Whatever you do, you cannot land LNG in the East at a price of less than $US12," Mr Fesharaki said.
Fesharaki goes on to predict no new projects in Australia. In a phrase, no shit. 
More to the point, what's going to happen to the existing projects? They have long term supply contracts at oil-linked prices so should remain in operation, notwithstanding some renegotiation. But the return on these projects is not going to be anything like what was expected for either the firms, tax receipts or the economy.
I argued recently at Intelligent Investor that the iron ore boom was not a bubble. It was a demand shock and supply response overshooting in an inelastic market.
Australia's LNG boom looks much more like a bubble to me: unrealistic extrapolations of demand, overly cheap finance, wildly inflating costs, a stampede for supply all adding up to wildly inflated asset values and, ultimately, poor returns on bubble pricing.
David Llewellyn-Smith is Chief Strategist at the MB Fund and MB Super. David is the founding publisher and editor of MacroBusiness and was the fouding publisher and global economy editor of The Diplomat, the Asia Pacific's leading geo-politics and economics portal.
He is also a former gold trader and economic commentator at The Sydney Morning Herald, The Age, the ABC and Business Spectator. He is the co-author of
The Great Crash of 2008
with Ross Garnaut and was the editor of the second
Garnaut Climate Change Review
.
Did you know the MB International Shares Fund has returned an average of 17.1% per annum and the Tactical Growth Fund an average of 10.4%? Register below to learn more:
Latest posts by Houses and Holes (see all)