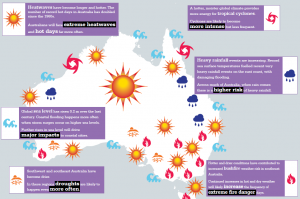 The Australian Climate Commission, which is a government funded institute which aims to inform about climate change, has released a new report declaring that:
1. Climate change is already increasing the intensity and frequency of many extreme weather events, adversely affecting Australians. Extreme events occur naturally and weather records are broken from time to time.

However, climate change is influencing these events and record-breaking weather is becoming more common around the world.

› Some Australian examples include:

Heat: Extreme heat is increasing across Australia. There will still be record cold events, but hot records are now happening three times more often than cold records.
Bushfire weather: Extreme fire weather has increased in many parts of Australia, including southern NSW, Victoria, Tasmania and parts of South Australia, over the last 30 years.
Rainfall: Heavy rainfall has increased globally. Over the last three years Australia's east coast has experienced several very heavy rainfall events, fuelled by record-high surface water temperatures in the adjacent seas.
Drought: A long-term drying trend is affecting the southwest corner of Western Australia, which has experienced a 15% drop in rainfall since the mid-1970s.
Sea-level rise: Sea level has already risen 20 cm. This means that storm surges ride on sea levels that are higher than they were a century ago, increasing the risk of flooding along Australia's socially, economically and environmentally important coastlines.

2. Climate change is making many extreme events worse in terms of their impacts on people, property, communities and the environment. This highlights the need to take rapid, effective action on climate change.

It is crucial that communities, emergency services, health and medical services and other authorities prepare for the increases that are already occurring in the severity and frequency of many types of extreme weather.
The southeast of Australia, including many of our largest population centres, stands out as being at increased risk from many extreme weather events – heatwaves, bushfires, heavy rainfall and sea-level rise.
Key food-growing regions across the southeast and the southwest are likely to experience more drought in the future.
Some of Australia's iconic ecosystems are threatened by climate change. Over the past three decades the Great Barrier Reef has suffered repeated bleaching events from underwater heatwaves. The freshwater wetlands of Kakadu National Park are at risk from saltwater intrusion due to rising sea level.
Full report below: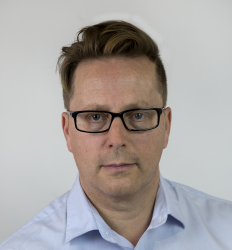 Latest posts by Houses and Holes
(see all)