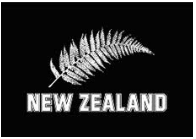 The Reserve Bank of New Zealand (RBNZ) today released its quarterly Statement on Monetary Policy (SoMP), where it kept the official cash rate unchanged at 2.5% and signalled that it would remain on hold until 2014 due, in part, to the ongoing drought, which is expected to lop up to 1% from New Zealand's GDP.
The RBNZ's comments on the housing market were particularly interesting. The RBNZ noted that there had been a notable pick-up in house price inflation, which is "estimated to have increased in real terms at an annual rate of 6 percent over 2012 and are forecast to increase by 6.2 percent and 3.6 percent in 2013 and 2014 respectively before levelling off" (see below chart).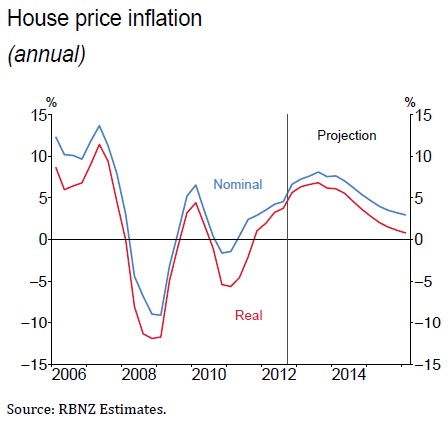 Housing turnover continues to gather momentum and house prices are now around 7 percent higher than a year ago. While the pick-up to date has been most pronounced in Auckland, strength in the housing market is becoming more widespread with house price inflation increasing throughout New Zealand [see next chart].
The RBNZ also noted that credit growth is now exceeding deposit growth, requiring the banks to borrow offshore, and that there has been a marked pick-up in high loan-to-value ratio (LVR) mortgage lending, with around 20% of all lending growth now in the 80-90% LVR bracket, while a further 10% was in the 90% plus bracket:
…loans and advances' growth surpassed deposit growth in December on an annual basis [see below chart]. There is some indicative evidence that higher loan-to-value ratio lending has made up a greater proportion of new lending. If credit growth continues to pick up, banks may issue into offshore markets with greater frequency. While this would increase banks' reliance on global funding markets, finding costs are the lowest they have been since early 2011.

…mortgage rates, which have been low for the past few years, have fallen further in recent months reflecting a decline in bank funding costs. In addition, it appears that loans with a high loan-to-value ratio have been increasing as a share of total new lending. Moreover, household caution towards debt may be waning, with housing credit growth picking-up [see next chart].

While housing demand is increasing, supply remains tight. The number of new listings is growing only slowly and the supply of new houses is limited given low levels of residential investment in recent years. As a result, total inventory on the market is low and the ratio of listings-to-house-sales – a measure of tightness in the housing market – is at levels last seen in 2007.

…recent momentum in the housing market is assumed to build further. Annual house price inflation is forecast to peak at 8.5 percent in 2014. From there, an increase in the housing stock and elevated household debt levels is assumed to restrain house price inflation.
The lowering of bank funding costs has also seen an increase in fixed-rate mortgages, whose interest rates have fallen to their lowest level in around 40 years:
A number of banks dropped their fixed mortgage rates during the first two months of the year, with the 6-month rate dropping to as low as 4.79 percent, the lowest market mortgage rate New Zealand has seen for at least 40 years. Borrowers continue to migrate to fixed rate mortgages. As is typically the case, borrowers are shifting into the cheapest part of the curve, which is currently six-month to two-year fixed mortgage rates.

The proportion of borrowers on fixed terms greater than two years is just 5.5 percent, compared to a peak of 33 percent in 2007. The average time until mortgage rates are re-priced has increased from 4.7 months (at its low in February 2012) to 6.7 months as at the end of January.
Despite the growing housing risks, the RBNZ seems highly complacent. Nowhere in its SoMP does the RBNZ mention the development and use of macro-prudential tools, including limits to high LVR lending, in order to temper mortgage and house price growth.
While the RBNZ has promised to deliver a framework for macro-prudential tools later this year, it has a long and checkered history of using "open mouth operations" to warn about housing risks, but failing to take any decisive action. With a new governor at the helm, I had hoped that the RBNZ might finally be getting its act together. But after reading the SoMP, it seems that the RBNZ is as complacent as ever and that there is unlikely to be any meaningful reforms to mortgage lending.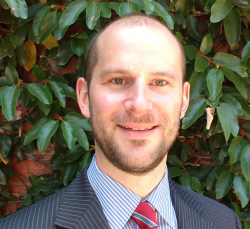 Latest posts by Unconventional Economist
(see all)