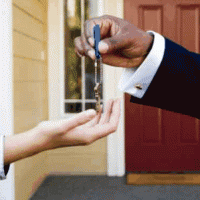 The Australian Bureau of Statistics (ABS) has just released housing finance data for the month of January, which registered a seasonally-adjusted -1.5% decrease in the number of owner-occupied finance commitments over the month. Analyst's had expected growth of 0.2% over the month. December's results were also revised downward.

Arguably, the most important figure in the release is the number of owner-occupied housing finance commitments excluding refinancings, which registered a seasonally-adjusted -1.9% fall over the month of January and remains some -8% below the five-year moving average level (see next chart).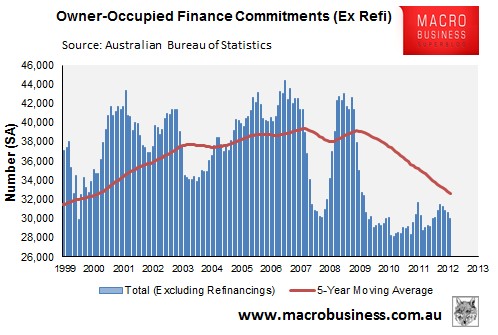 The uptrend that had been apparent since February 2012 has now receded, with the series now declining for four consecutive months and -0.8% lower than January 2012: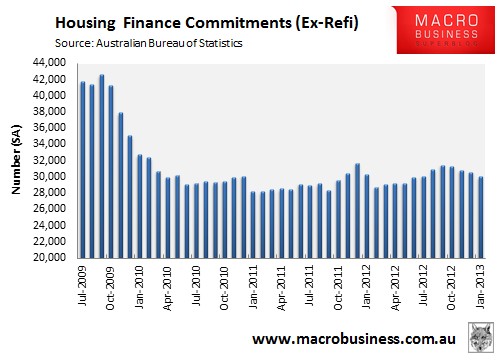 The fall in owner-occupied mortgage demand appears to have been driven by another big drop-off in first home buyer (FHB) commitments, which fell by another -11% and represented just 14.9% of total owner-occupied commitments in January 2013(see next chart).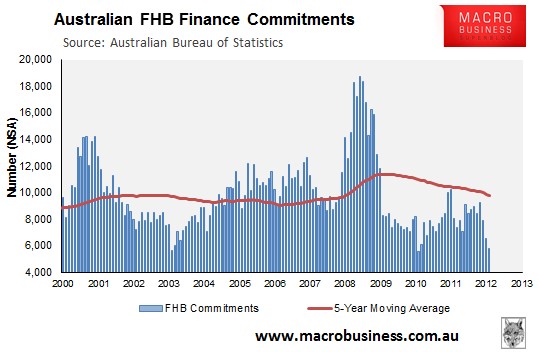 Unfortunately, the ABS only provides the value of investor finance commitments. These were up by 4% in January and by 19% over the year, suggesting that investors are driving housing demand and price growth at present (see next chart).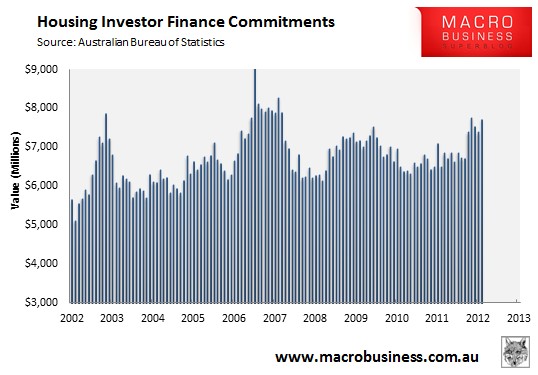 Overall, it's a fairly weak result that suggests that the mild momentum in mortgage demand that had been building since early 2012 continues to lose steam. Mortgage demand is being driven predominantly by investors, with FHBs seemingly abandoning the market en masse.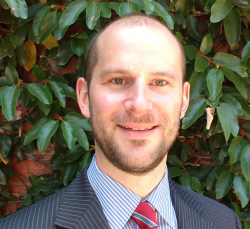 Latest posts by Leith van Onselen
(see all)