It is not always easy to determine bank funding costs. They're complex. The AFR is very excited today about the prospect of out-of-cycle rate cuts from major banks:
"Potentially, we could see out-of-cycle interest rate cuts, but not in the near, near future," Morningstar bank analyst David Ellis said. "It depends on how offshore, wholesale funding markets perform.

"If they continue to improve and if the pressure on pricing in the customer deposit pricing improves, I would expect to see some type of out-of-cycle interest rate cuts in home loans later in the year."

While deposit pricing remains elevated, the cost of wholesale funding has declined dramatically in recent months amid an improving outlook for the global economy.

Commonwealth Bank of Australia raised $US2 billion by issuing bonds to investors in the US in January at a cost that was close to 1 percentage point cheaper than a year earlier.

Last week, Bendigo and Adelaide Bank raised $850 million by issuing "residential mortgage-backed securities" to investors at the lowest cost since the global financial crisis.
Hmmm, if prices fall then something might happen. Go figure!
The evidence to date however is not supportive. As the Unconventional Economist has shown, deposit funding costs have risen consistently: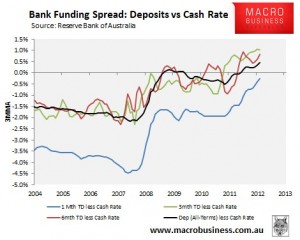 And the CDDS market, which is an excellent guide to the price of underlying pricing for 5 year wholesale bond issuance has been stuck at new normal levels of 100bps over swap (vs pre GFC of 15bps roughly speaking), hasn't budged in ten weeks: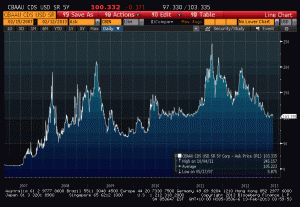 The AFR argues that the local mortgage-backed securities market is now cheap enough to issue competitively. The AOFM has not needed to support any issuance since August last year so the improvement is real enough. But the majors don't use it much and by definition it is in the same pricing bracket as wholesale funding.
Having said that, as the Unconventional Economist also noted yesterday, out-of-cycle cuts have begun in variable mortgages in part owing to cheaper MBS prices. So competitive pressure may mount on the banks to cut rates out-of-step with the RBA, crimping margins. But that will take time and a lot more competition than we have now. The fist rule of oligopoly business is never discount your fellow carteliers.
In the end it's all a bit of so what? Even if it does happen, the RBA will simply compensate on the way up, just as it did on the way down.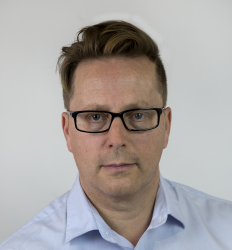 Latest posts by Houses and Holes
(see all)