This is all enough to have prompted Jonathon Mott at UBS to forecast out-of-cycle rate cuts by the banks. From the AFR:
"If the global economy continues to improve, funding markets keep rallying and deposit competition continues to ease we believe banks will come under pressure to initiate out-of-cycle rate cuts," he said.

"If this scenario eventuates and the banks do not move to pass though funding benefits the risk of 'political interference' is real. This may be to the long-term detriment of shareholders."

"New entrants without the baggage of a back-book of expensive wholesale funding are also likely to enter the mortgage market."
Here are Mott's two key charts: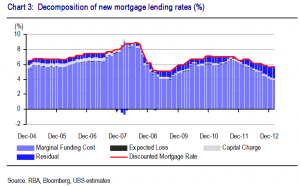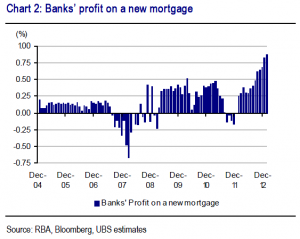 Still, quite a few 'ifs' there. It's not easy to see where this improvement in funding ends. While debt markets have given up on risk since the ECB stepped into the breach last year, the global economy is not, in my view, on the road to some new boom. Hence actual economic conditions will lag the hopium that is loose in markets.
More to the point, banks have virtually no incentive to cut rates out-of cycle. To do so will end there primary defense for fattening margins and the first to move will risk the wroth of shareholders as there is no need to do so in an oligopoly.
Moreover, the RBA is happy with where rates are now. It put them there. What is the point of the banks giving up margins for market share when the RBA will take it straight back from the market?
The best I can see happening is the banks not passing on a full RBA hike, if it comes to that.
Competition may force it in time but we are still some distance from that.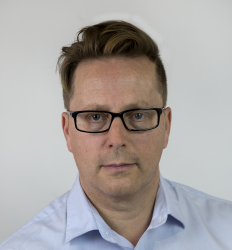 Latest posts by Houses and Holes
(see all)