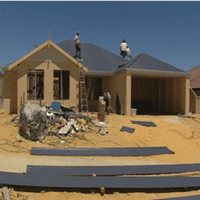 From the Housing Industry Association (HIA) today comes news that new homes sales are staging a tentative recovery, particularly in the detached house segment. Total new home sales rose by 4.7% in November driven by 7.7% lift in detached house sales, whereas sales of multi-unit homes (apartments) fell by 6.9% following a spike in October.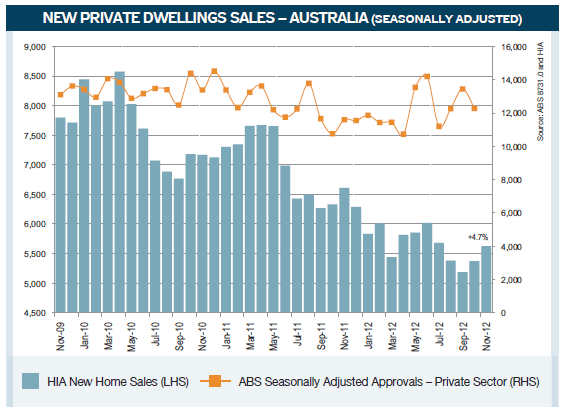 From the HIA:
Up until this latest result it had been volatility in multi-unit sales that had provided some positive impetus in aggregate new home sales which occurred against the back drop of a trend decline in detached house sales – so it is encouraging to the see that in November the positive result was driven by the important detached house segment of the market.

Looking out beyond the monthly improvement, the quarterly change in the volume of sales over the three months to November 2012 still fell by 5.3 per cent and remains at a level that is 15.7 per cent lower than in the same period in 2011. Detached house sales fell by 8.0 per cent over the three months to November 2012 (-24.1 per cent relative to a year ago) while multi-unit sales increased by 9.3 per cent (+64.4 per cent relative
to a year ago).

So, while this headline result is encouraging, it still remains that total dwelling sales declined over the latest three months and in annual terms –  an overall profi le showing a full recovery has a long way to run.

Furthermore, inspection beneath the aggregate offers a geographical insight into the November improvement in detached house sales. Looking across the five mainland states, November saw detached house sales increase in New South Wales (+15.8 per cent), Victoria (+15.6 per cent) and South Australia (+6.7 per cent). Meanwhile, detached house sales declined in Queensland and Western Australia by 0.1 per cent and 6.8 per cent, respectively. Increases in the two most populous states is encouraging, however we don't expect this to herald an emerging upward trend in Victoria over the medium term. Furthermore, while improvements in NSW will be needed to drive any aggregate recovery in 2013, WA and Queensland are still vital to achieving this outcome. WA has made healthy gains throughout the year, though Queensland has yet to demonstrate any sign of a turnaround in the persistent trend decline.

At this juncture, signs of recovery remain tentative. There is still a long way to go before new home sales are restored to healthy levels. Furthermore, the improvements are lacking in some important areas where we must see improvements. The importance of a broad based rejuvenation of new home building activity in maintaining the health of the overall Australian economy has been widely acknowledged, but at this stage, new home sales sits among a host of indicators that are yet to provide conclusive evidence that we are on track to achieve this.
It's important to note that despite this month's lift, annual new home sales are still tracking at their lowest recorded level in the series' 16-year history: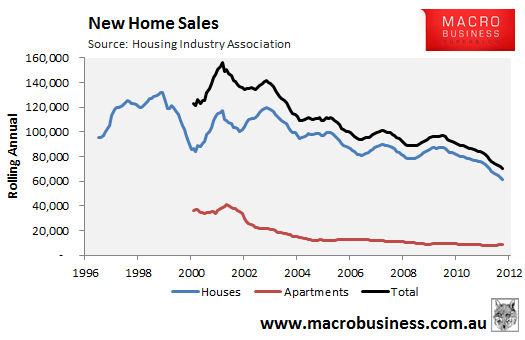 Leith van Onselen is Chief Economist at the MB Fund and MB Super. Leith has previously worked at the Australian Treasury, Victorian Treasury and Goldman Sachs.
Latest posts by Unconventional Economist (see all)