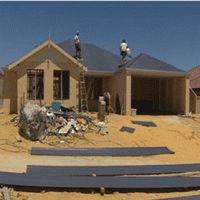 The Australian Bureau of Statistics (ABS) has just released the Building Approvals data for the month of November. At the national level, the number of dwelling approvals rose by a seasonally adjusted 2.9% to 13,307, driven predominantly by a 10.1% increase in approvals for private sector units and apartments. Consensus was for a total rise of 3.0%.
The prior month's approvals were also revised upwards by 3.1%, from 12,540 to 12,932.
In the year to November 2012, dwelling approvals rose by a seasonally-adjusted 13.2%. The key figures are provided in the below table:

A chart showing the time series of seasonally-adjusted dwelling approvals at the national level is provided below, split-out by detached houses and units & apartments: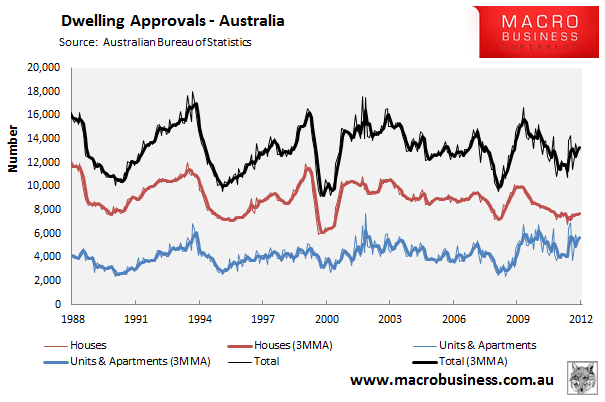 As you can see, dwelling approvals nationally were trending down since early 2010, but received a large boost in May and June when the number of unit & apartment approvals bounced. This unit and apartments boom retraced momentarily before rising once more.
Monthly dwelling approvals are now running in-line with long-term average levels, as shown by the below chart. However, they remain fairly depressed in population-adjusted terms, given that Australia's population has grown by more than 40% over the past 30-years.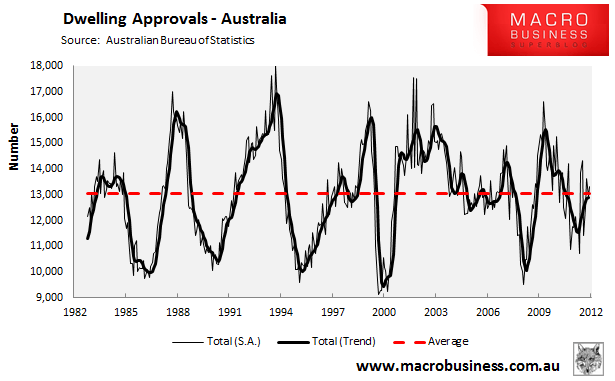 The below chart shows the time-series of approvals at the state level.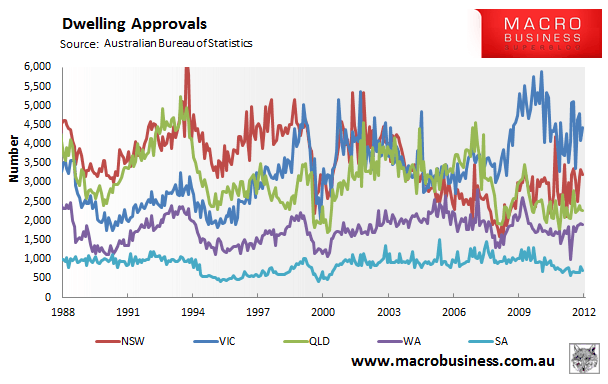 This month's rise in dwelling approvals was driven by Victoria, where approvals rose by 9% (+355). The ACT (+99% or +243 dwelling units) and the NT (+138% or +94 dwelling units) also experienced big increases, whereas approvals in New South Wales (-4% or -133 dwelling units) and South Australia (-14% or -112 dwelling units) fell significantly over the month.
Leith van Onselen is Chief Economist at the MB Fund and MB Super. Leith has previously worked at the Australian Treasury, Victorian Treasury and Goldman Sachs.
Latest posts by Unconventional Economist (see all)