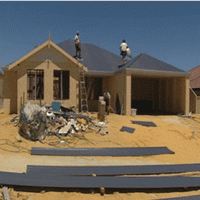 Over the weekend, the Australian Financial Review (AFR) ran an article suggesting that a recovery in first-home buyer (FHB) new home sales is afoot following the changes to FHB grants in New South Wales and Queensland, which in October 2012 ended the FHB grant on pre-existing dwellings in return for more generous subsidies for buyers of newly constructed dwellings. From the AFR:
The new round of first home owner incentives, introduced by state governments in the past six months and targeted at new construction, is starting to have an impact…

A NSW Treasury spokeswoman said the number of new homes being built or bought by first home buyers since the grant was introduced in October was four times greater than the same period last year.

In Queensland, developer QM Properties reported its strongest month in sales in 3½ years last October, with about 55 per cent made to first home buyers…

"Over all of our developments in south-east Queensland, sales have doubled as a direct result of the new grant," QM properties sales manager Damien Ross said.

Stockland also noted a moderate improvement in sales in NSW and Queensland because of the grants.

The chief executive of AVJennings, Peter Summers, said the new incentives looked to be having some positive impact…

BIS Shrapnel associate director Kim Hawtrey said the increased first home buying reported by NSW Treasury reflected a clear positive shift by buyers towards new dwellings because of the grants.

"It will have a positive effect on construction of new homes, which will help to support building levels, especially in NSW where it has been performing badly," he said.

The executive director of the Property Council in Queensland, Kathy MacDermott, said the new incentive in Queensland was providing a much-needed boost to construction and residential sectors under pressure because of lower household consumption and investment in dwellings and slowing employment growth.
While the changes to FHB grants should logically have a positive impact on new home sales in New South Wales and Queensland, it is difficult to see much improvement in the latest Housing Industry Association (HIA) new home sales report which, as at November 2012, showed annual new home sales falling to their lowest level in the series' 16-year history (see next chart).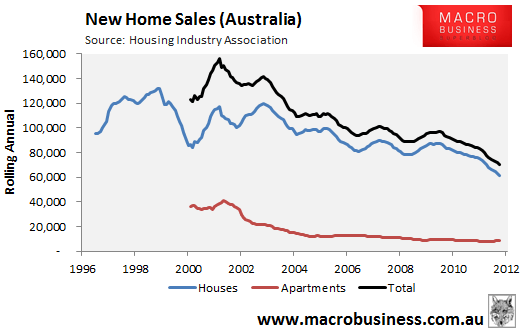 In fact, new detached house sales fell to near 16-year lows in all mainland states except for Western Australia, which is experiencing a mild resurgence (see next chart).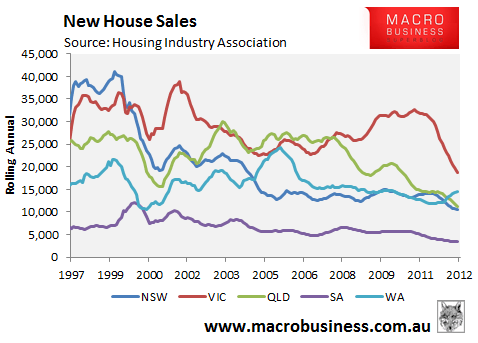 The next series of charts plot new detached house sales against house approvals in each of the mainland states and nationally. The difference in the slope of the two series provides an indication of whether a new house glut might be developing in Australia's outer suburbs.
First, here's the picture at the national (mainland state) level:
As you can see, new house sales have fallen away at a much faster rate than house approvals, suggesting that a glut may have developed nationally in Australia's new housing estates.
Next is New South Wales, where house sales have fallen away as approvals have flat-lined: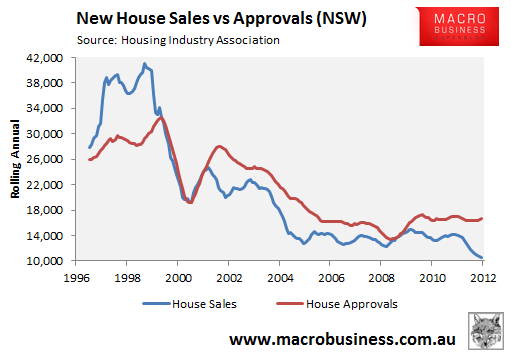 The situation looks far more precarious in Victoria, where new house sales have plummeted at a much faster rate than house approvals: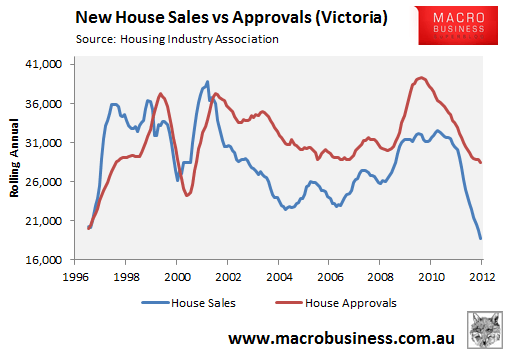 The situation appears similarly precarious in Queensland, where house approvals have risen since September 2011, whereas new house sales have fallen: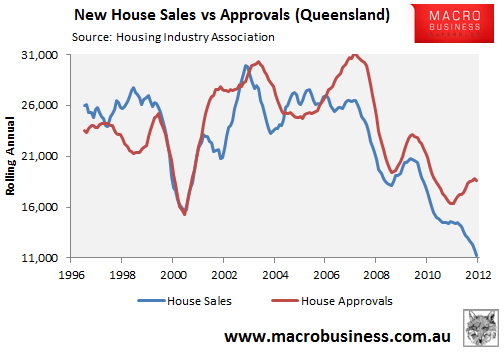 Western Australia, by contrast, is bucking the trend, with new house sales rising at a much faster rate than approvals since late-2011, suggesting an undersupply of new houses for sale might have developed (see next chart).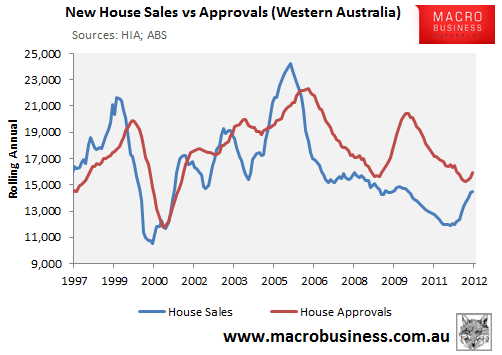 Finally, in South Australia, new house sales and house approvals have moved more or less in-line (see next chart).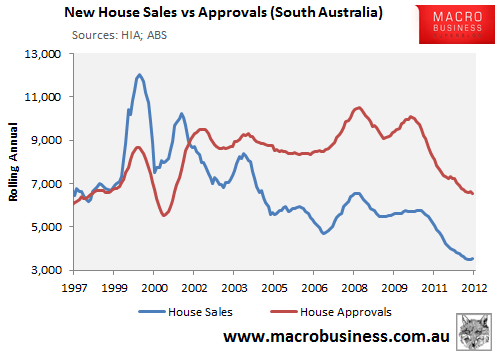 Based on the data from the HIA, it appears far too early to suggest that a FHB-led recovery is underway in new home sales, except in Western Australia. Moreover, the new house and land markets in Victoria and Queensland appear to be experiencing clear oversupply, as evident by new house sales falling at a much faster rate than new house approvals.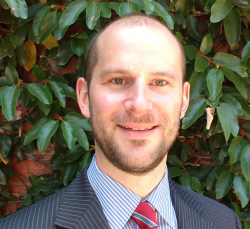 Latest posts by Leith van Onselen
(see all)