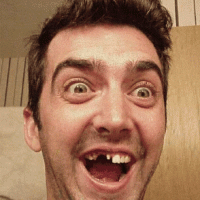 Last month, RP Data released its Buy versus Rent report for October, which showed that it is cheaper to rent than buy in over 93% of locations across Australia: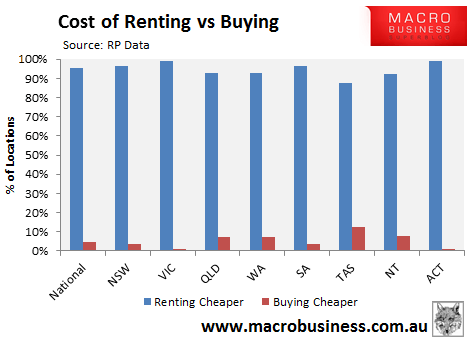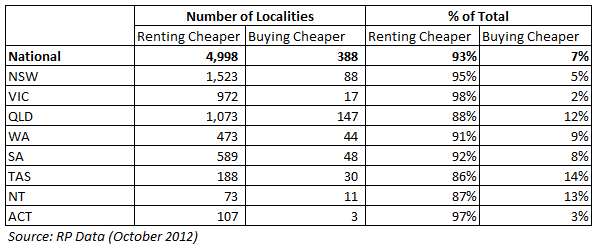 As explained when the report was released, RP Data used some generous assumptions to skew the results in favour of buying, including ignoring common costs associated with home ownership (e.g. stamp duties, rates, maintenance, etc), as well as assuming that the buyer had a 10% deposit and ignoring the associated opportunity costs.
Overall, RP Data's analysis confirmed what many of us already knew: that renting represents good value from a purely financial perspective.
Not so according to the "Property Professor", Peter Koulizos, who claims that on financial grounds, property ownership beats renting hands down over a longer time frame. Below sets out the Property Professor's case (my emphasis):
It is better to buy a property than to rent for your whole life… In the table below, I have outlined the money involved if you own a home as compared to renting a property. Some of the assumptions I have made include:

You buy/rent at the age 25, retire just after 65 years of age and live until you're 85.
Property is worth $350,000
Property increases at 7 per cent per annum
You borrow 95 per cent of the value i.e. your loan is $332,500
In the first year, your gross salary is $50,000. Your salary will increase by CPI plus I've made some allowances for career promotions so as to work your way up the salary ladder.
Your net salary takes into account the tax you'll need to pay.
The interest rate on your mortgage over the first 10 years is 6.5 per cent. The final 20 years of your mortgage is based on a 7.5 per cent interest rate. You are making principal and interest repayments.
Home expenses are the equivalent of 15 per cent of the rent payable. This includes council rates, insurance, repairs, etc.
Initial rent is $350 per week. This increases at a rate of  7 per cent per annum.
To be sure, those are some pretty outrageous assumptions. According to the good professor, home prices and rents are projected to increase at over twice the rate of inflation into perpetuity. As such, the professor's example provides ridiculous results (my additions in red):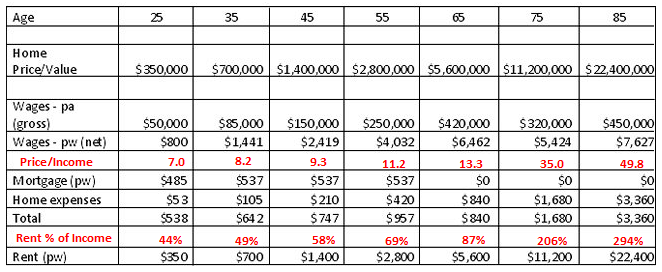 Under the professor's assumptions, a $350,000 home would increase to over 13 times the individual's peak (pre-retirement) income at 65 years of age, with the rental cost on the same home chewing-up 87% of the individual's peak income (i.e. leaving just 13% of income to live-off if the home were rented)!!!
Obviously, such analysis is ridiculous and does not pass the laugh test (except if that test is for how funny it is!) How exactly does the professor think that rents and house prices could double every decade in tandem without a corresponding increase in incomes? Other factors aside, such a huge rise in rents would prevent most first home buyers from saving a deposit, thereby impeding their ability to borrow for housing and push-up house prices.
The article is clearly a shameless spruik aimed at scaring financially vulnerable Australians into buying property. That it could make it past the editors of news.com.au also beggars belief.
Twitter: Leith van Onselen. Leith is the Chief Economist of Macro Investor, Australia's independent investment newsletter covering trades, stocks, property and yield. Click for a free 21 day trial.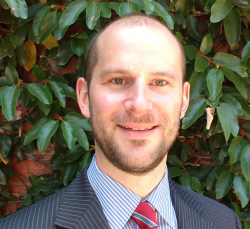 Latest posts by Leith van Onselen
(see all)