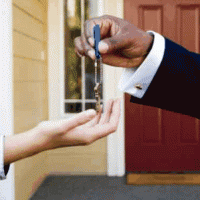 Reported auction clearance rates weakened over the weekend in Victoria, as the spring selling season came to a close. Once again, there were also a large number of unreported auctions, particularly in New South Wales, which places a cloud over the reliability of the results.
The Real Estate Institute of Victoria (REIV) reported a provisional auction clearance rate of 57% on 822 results reported to the REIV. This compares to a provisional clearance rate of 60% initially reported last weekend on 875 auctions, which was later revised down to 59% once some late results were chased-up. With around 920 auctions initially planned over the weekend, there are a large number of missing results, which could lead to the clearance rate being downgraded as further results arrive.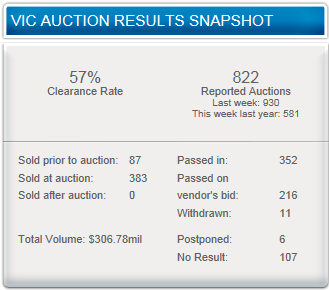 Although this week's reported clearance rate is once again a bit rubbery, given the high number of missing results, it is still above the same weekend of last year, where a clearance rate of only 53% was recorded on 882 auctions, and is also looks to be in-line with the 57% clearance rate recorded in 2010 on 1,235 auctions.
In New South Wales, where auction data is less transparent and accessible, a provisional clearance rate of 62% was reported on 346 auctions by the Real Estate Institute of New South Wales (REINSW), which is the same clearance rate as reported by the REINSW in the previous weekend. However, there were 159 auctions with "no result", once again rendering the headline result next to useless: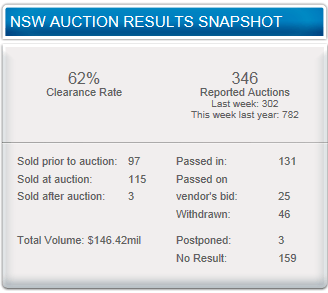 Once again, to highlight the questionable reliability of Australian auction data (particularly in New South Wales), check out last week's auction results published later in the week by RP Data after outstanding results were chased-up:
Last weekend's final clearance rate of 59% reported by the REIV was 6.5% above that published by RP Data later in the week. Worse, the REINSW's reported clearance rate of 62% was 10.5% higher than RP Data's. Part of the reason for the divergence is that the REIV's final clearance rate captured only 930 results (versus RP Data's 986) whereas the REINSW captured only 302 results (versus RP Data's 600).
Twitter: Leith van Onselen. Leith is the Chief Economist of Macro Investor, Australia's independent investment newsletter covering trades, stocks, property and yield. Click for a free 21 day trial.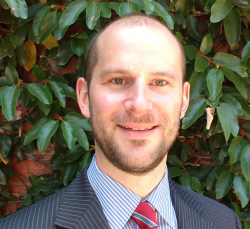 Latest posts by Unconventional Economist
(see all)