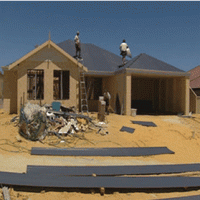 The Age's Chris Vedelego continued his fine form in a report yesterday on the looming disaster facing new housing estates on Melbourne's fringe. Below are the main extracts, although I highly recommend that you read the full article for yourself:
Melbourne's outer-suburban property market is facing a serious slump as distressed buyers and builders cancel one in every three new home purchases.

The collapse in sales could have serious repercussions for the state economy and the building industry, which employs more than 250,000 Victorians.

"We've never seen this before, so it's a very strong signal that the fundamentals are wrong," said Colin Keane, director of analyst group Research4, who compiled the new research.

He said the current cancellation rate of more than 30 per cent compared to an average two years ago of about 5 per cent.

Developers have had nearly 1800 lots returned to them this year as buyers have aborted plans to build homes in the city's housing estates, according to the National Land Survey Program.

While buyers who walk away from sales are losing their deposits, developers are left trying to re-sell the land as demand wanes.

The cancellation rate on land deals hit more than 30 per cent in the September quarter, up from an average of 5 per cent before the 2009-2010 property boom ended. It had been averaging about 23 per cent over the past year…

"It also doesn't help that the prices being charged for the land rose way too high, too fast when these blocks were being sold 12 or 18 months ago."

Others buyers have had to walk away from settlements – and much larger deposits worth up to 5 per cent of the purchase price – after failing to get financing on blocks of land that have lost 10 to 20 per cent of their value since they signed the contract.

The problem has worsened despite some developers reportedly offering big cash hand-outs in a bid to help buyers make up the difference between what they initially agreed to pay and the land's current value when qualifying for a loan.

"The developers are basically trying to buy their settlement. It's easier to pay them the difference than to try to sell the block again," said a valuer, who asked to remain anonymous…

Industry lobby groups have also been calling for a boost to the First Home Owners Grant for new homes, which was slashed from $20,000 to $7000 in July.
To say that Melbourne's construction industry is in deep trouble is an understatement. Following the expiration of the $13,000 first home bonus on 1 July 2012, new house sales have crashed as have dwelling approvals (see below chart).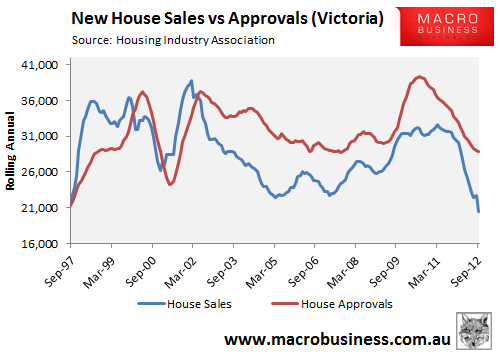 The number of Victorians employed in the construction industry has also fallen sharply, with-38,500 jobs lost in the year to August 2012 representing -17% of the state's construction workforce (see below chart).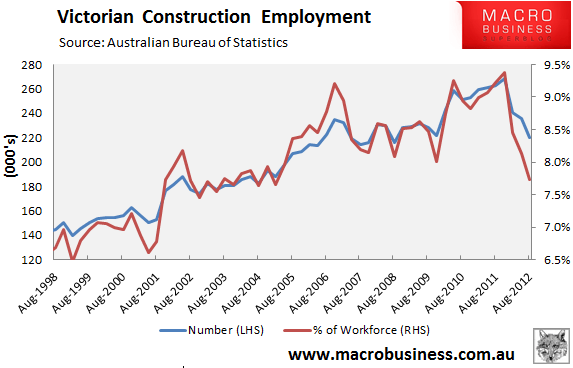 The sharp decline in sales have come despite developers offering generous incentives in an attempt to entice sales, including giving away new cars, offering large cash-backs, free landscaping, or paying a buyer's energy bills for three years when they buy a new house and land package.
However, as explained in my recent article,
The house and land value trap
, such incentives are actually impeding the functioning of the new home market, and straight price reductions are required to get sales moving:
A buyer of land that comes with an incentive, such as a new car, pays stamp duty on the higher contract price, resulting in more stamp duty being payable than if the price had been lowered by the amount of the incentive. Moreover, when the buyer seeks finance, the bank is more likely to value the property at a lower level than the contracted price, thereby reducing the amount that the bank will lend and effectively increasing the borrower's required deposit…

Australia's property development industry appears to be caught in a pincer. If they don't abandon incentives in favour of transparent land price deductions, financing of new house and land packages will remain problematic and sales will likely continue to struggle. At the same time, reducing the listed price by the same value as the bonuses and incentives being offered could lower their collateral value, potentially triggering the banks to call in more equity from bank-financed developers to bring their loans back to agreed conditions and/or loan terms. Straight price cuts are also more likely to aggrieve recent purchasers that paid higher prices.

Ultimately, the core problem with the new house and land market in Australia is that prices remain above what many buyers can afford or are willing to pay. And until prices deflate, the rate of home sales and construction activity is unlikely to rebound materially, leaving Australia's property developers holding large land banks that they cannot offload.
On the last point – high land values – the next chart tells the story. Despite deflating over the past two years, Victoria's overall residential land values remain by far the highest in the country at 2.6 times gross state product (GSP), versus a national average of 1.9 times GSP (see next chart). While this comparison does not relate directly to vacant land values on the fringe, it does show how over-valued residential land values have become in the southern capital.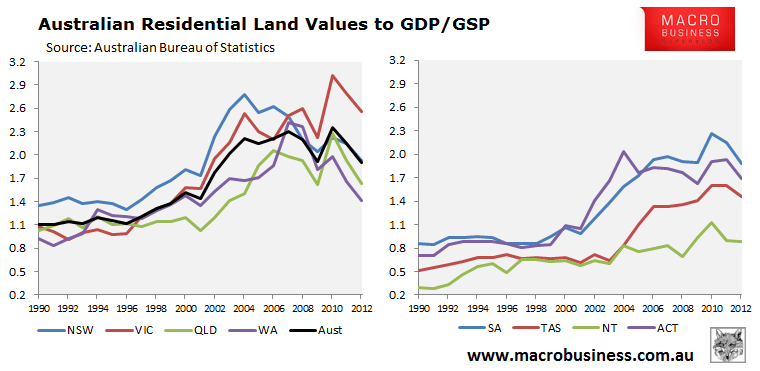 Until land prices deflate to more reasonable levels, new home sales in Melbourne (and elsewhere in Australia) will continue to disappoint, requiring continual band aid 'stimulus' from the government (e.g. increased first home buyers grants) to get sales moving (albeit only temporarily).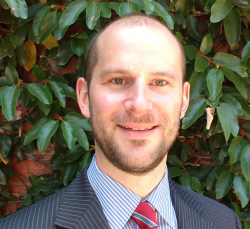 Latest posts by Unconventional Economist
(see all)