The Australian's Bernard Salt has provided an interesting breakdown from the 2011 Census of the shift by Australian home buyers towards larger houses on fringe housing estates, as well as smaller studio apartments in the inner city:
The 2011 census specifically asked the number of bedrooms in each dwelling. There are about 23 million bedrooms in Australia, and it's growing at a rate of close to 400,000 a year. The most common dwelling structure in Australia is the three-bedroom version with a 45 per cent share of all stock, but in terms of net new dwellings built since the 2006 census, the most popular is the four-bedroom version with a 45 per cent share. In comparison, the three-bedroom dwelling only captured a 20 per cent share of new dwellings constructed since 2006.

Our houses are getting bigger to such an extent that if current trends were to continue the national icon by mid-century would no longer be a three-bedroom brick-veneer but a four-bedroom, two-bathroom dwelling. And it's not just four-bedroom homes that are in demand.

Between 2006 and 2011 the number of private dwellings in Australia increased by 625,000, or 9 per cent. However, the number of three-bedroom dwellings — the most popular form of house — increased by just 4 per cent. There was a 15 per cent jump in the number of studio apartments, up 5000 to 37,600, as well as a 17 per cent jump in the number of four-bedroom homes, up 279,000 to 1.9 million.

But the real bedroom action isn't at the small end of the dwelling spectrum: it's at the upper end. The number of five-bedroom dwellings in Australia increased by 20 per cent, or 56,300, over the five years to 2011. And in the six-plus bedroom category, the jump was 21 per cent. McMansion private dwellings with six or more bedrooms increased from 59,400 in 2006 to 71,900 last year.

The housing market is polarising, with strong growth in demand for four bedrooms and also for studio and single-bedroom apartments. The products that are struggling are two- and three-bedroom dwellings…
It would be easy to try to blame the high cost of new housing on increasing house sizes. However, to do so would be incorrect when half to two-thirds of the cost of new house and land packages are captured by land values, which have risen substantially over the past decade: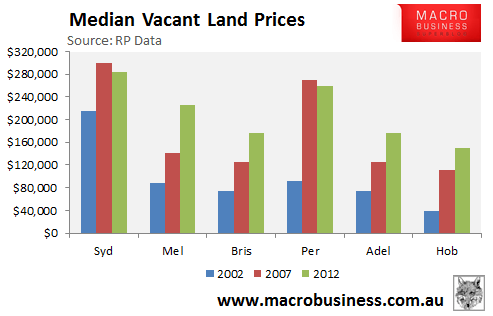 Not only has the median price of vacant housing blocks risen substantially, but they have shrunk in size over the decade, offsetting the cost impact from building bigger houses.
In many ways, the desire for larger homes is a logical response to higher land prices. When a vacant block costs $100,000 (3br house plus land $250,000), a buyer is less likely to pay $40,000 to add an additional room than when a block is $200,000 (3br house plus land $350,000), as the proportional increase in price is larger.
Sydney and Perth have the highest median land costs in the nation at $283,500 and $260,000 respectively. Interestingly, both cities are also home to suburbs with the highest concentration of large homes (McMansions) – Beaumont Hills in Sydney's northwest, and Iluka on Perth's northern beaches. In both suburbs, four-plus bedroom houses comprise 94% of the housing stock, according to Bernard Salt.
Food for thought…
Twitter: Leith van Onselen. Leith is the Chief Economist of Macro Investor, Australia's independent investment newsletter covering trades, stocks, property and yield. Click for a free 21 day trial.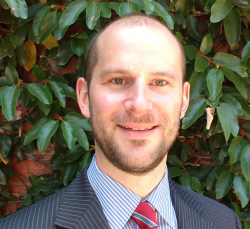 Latest posts by Leith van Onselen
(see all)