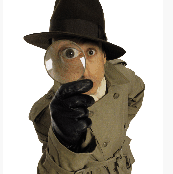 Please find below Nathan Webb's analysis of the latest AFG housing finance data.
I've had a bit of a hiatus from charting, while helping my wife to look after the newest addition to our family.  So I'll have to keep it brief, lest I'm needed to do some cuddling.
The AFG mortgage volumes for September and October have continued to impress, building up a small head of steam.  The following charts begin by making an adjustment for the number of trading days in each month, and using the difference above or below average to predict changes in house prices.  That is, when mortgage sales in any given month, adjusted for the number of trading days in that month, are above average, then you can expect prices to rise.
The first chart shows the overall view, with the bars showing the actual volumes, and the red line indicating where they should have been after adjustments.  The last 12 months have been pretty much on the mark.  But it's hard to see in this chart, so the next chart plots the difference between the two lines, referred to as the "residuals".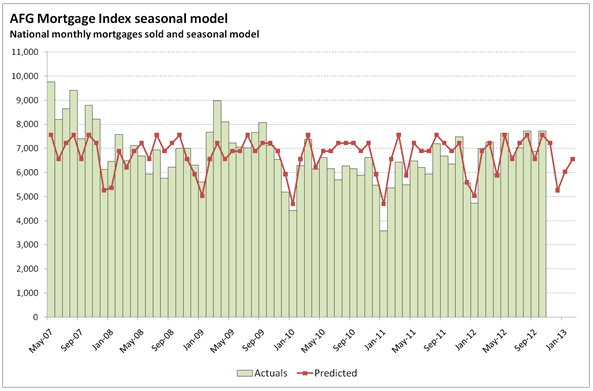 This chart shows that the mortgage sales are clearly in the positive, although still only modestly so.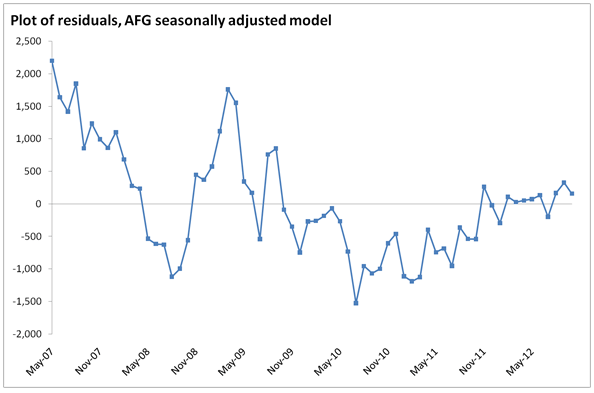 The residuals are then compared to SQM's stock on market report, where there is a very strong negative correlation.  The third chart shows this, with the residual inverted and laid over the top of the change in Stock on Market.  I've used the 3 month moving average to smooth things out.  The AFG results lead the 3mma by 1 month.  The chart is showing that after a period of stability, expect some small falls in the stock on market over the next couple of months.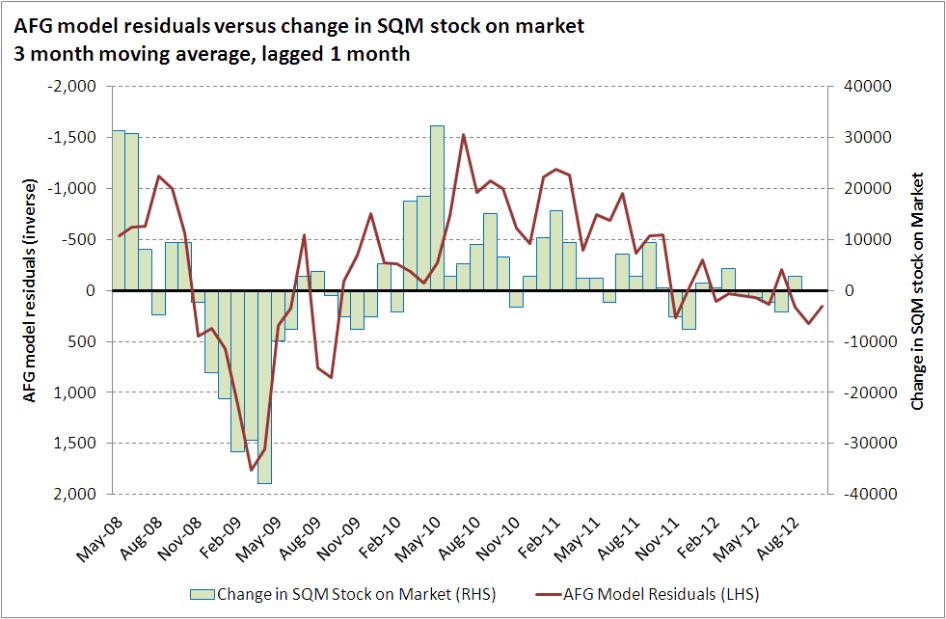 The correlation with RP Data's house price index is also pretty good, apart from the recent volatility.  This pattern of extreme volatility should be expected to continue, thanks to the new daily series.  The overall trend points to very modest growth, in the vicinity of 2-3% per annum, for the rest of the year, before slightly accelerating into 2013.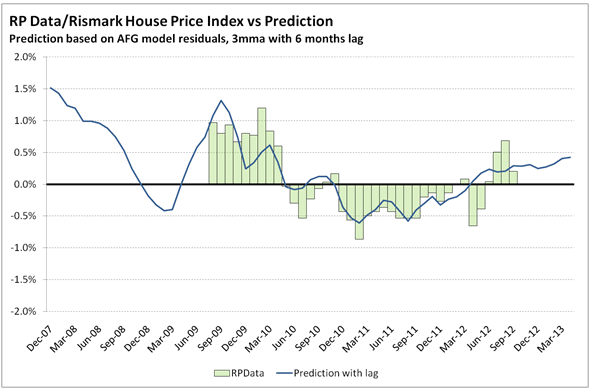 Finally, with the ABS quarterly series having been released at the end of October, it is timely to update the chart comparing the residuals to that series.  Again, further modest growth is to be expected, with upwards revisions in the most recent values.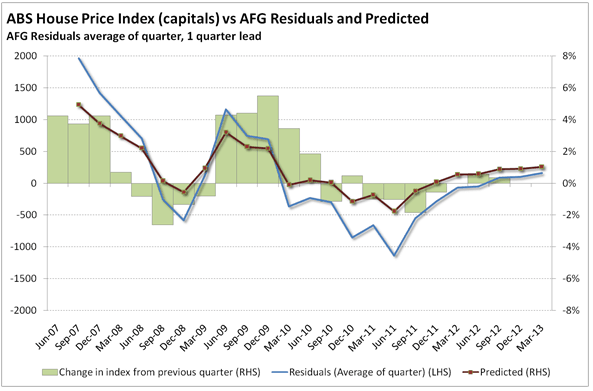 All up, this has been a good couple of months for AFG, and this should flow through to other indicators over the next few months.  The two trailing indicators of prices from RPData and the ABS will continue to provide positive news (for those in the market) for the next 6 months.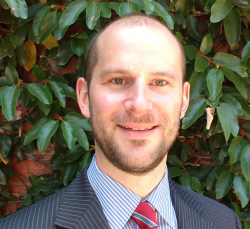 Latest posts by Leith van Onselen
(see all)